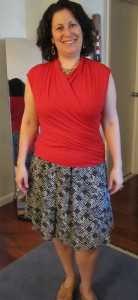 While working with a client this weekend in her closet during a style/organization session she tried on one of her older pleated printed skirts.
Shape and color wise it is good for her but when she tried it on..we both realized it didn't sent the right
message for her job. She looked pretty and feminine, but also young.
The outfit felt too junior or young to wear for her position in tech consulting.
It was not powerful enough for the leading position she currently holds.
So as a second pass through her closet and post shopping we both agreed it would be best for her to let it go.
It was easy for her to let her older clothes go because we had found and purchased a complete new Spring wardrobe which would also translate forward into fall.
Talk about getting major bank for her buck.
Comfort comes in many forms in style and often the message of the outfit is the hardest to diagnose.
It is one of what I call the 5 pillars of style & comfort.
Image/message is the pillar where we scratch our heads.
The garment may be brand new, expensive, and wonderful but on you,
it's just not working. And when you are not feeling it…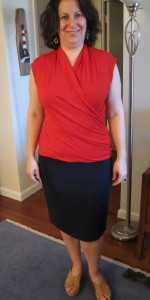 the best thing to do is to let it go. This is a perfect example of the message of the garment being out of alignment with your desired image.
It's clashing of the inside vs. the outside.
When we swapped the fuller skirt out for the pencil skirt her image changed to power player worthy of her career.
My mission in life is help successful women heal their relationship with their clothing and find that sweet spot of looking fabulous and feeling comfortable.
I shared my  full 5 pillars of style & comfort in a style WEBINAR. If you missed it you can still get the replay HERE>>http://bit.ly/1qkQODv