As a personal stylist who works from Larkspur Marin county California and New York city I see a huge need for comfortable clothing resources(personally+observationally).
So much of daily living is integrated with exercise + work intertwined so it's often easier to workout + work in the same outfit or a derivative of the outfit. Marin county is super casual and I see lot's of women at the Bay Club opt to dress on the casual side but still take the time to do the hair/makeup/fabulous jewelry.
I've been asked by a few Marin Mom's how they can get out of their yoga pants that they've been so accustomed to wearing.
As a follow up from my previous post 'how to be comfortable in your clothing'.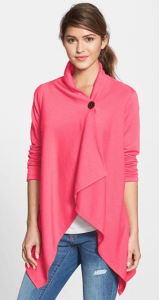 I'm naming three companies who make cozy comfortable yet stylish clothing.
Drum roll please..They are:
~Deletta
~Velvet by Graham Spencer
(Bobeau at Nordstrom's makes a versatile and useful top layer)
Asymmetrical Fleece Wrap Cardigan by Bobeau
PS: stretch cotton and modal are still my favorite fabrics for comfort.
P.P.S  WANT MORE RESOURCES?
If this post resonates with you and you want more designers and info on how to be chic and stylish
you can watch a replay of style chat *CHIC+COMFY* webinar ANYTIME.
I share my top strategies, cheats, and resources to be CHIC AND COMFORTABLE.