I'll let my client's words speak for themselves..
"Dear Alexandra: I have learned so much from my recent Darling Package Makeover. Wow, you have helped me so much. My closet was full of high quality solid basics and lacked the pizzazz that brought everything together to make a great outfit. I just needed a few jackets with lots of style and to learn to put on the scarves & jewelry that I already own.
Can you recognize my closet? What a difference after working with you. You are so right that if you cannot see a garment, you will not wear that garment. The second thing that you taught me was to organize items by color and to put all those garments of a single color together, no matter if it requires mixing the expensive with the everyday. Wow! The photos below show the blue group, the white group, the brown group, and the grey group. I have left over a few misc. colors, accent pieces that I will wear with these four groups.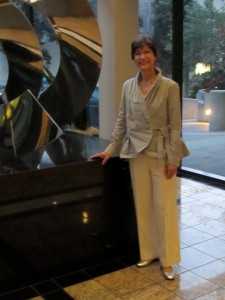 What a difference these concepts have made for me. I am sending a picture of my recent evening out to a non profit event, where valet parking was not optional. So, voila, out came all of the family jewels (diamonds!), which I have never worn enough, the white wool pants and camisole top, which I already owned, the silver ballet flats that I already owned, and the new jacket that we bought together. I felt like a million dollars (or maybe even more!). Thanks so much for making getting dressed a fun event again. You really know what you are doing and are a true professional."