Today I'm grateful for the stylish women in my life as a child. I was lucky to have grown up with not one but three style mentors. As a young child, I was very visual and could entertain myself for hours looking at the formation of clouds and the specks of dust in sunlight. So having a classic mother, glamourous step grandmother, and chic godmother were gifts from heaven. All three of them dressed differently based on their bodies and coloring, and all three of them had different styles and ways of putting themselves together. They were all equally stunning. At an early age I learned that it was ok to have your own style identity and to be an original because of them.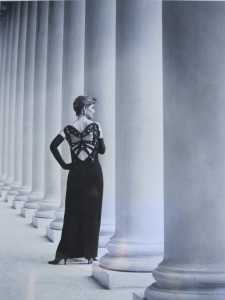 (my mother's one time modeling gig)
My Mother wore simple, elegant clothing and knew when it was appropriate to dress down in shorts. She wore makeup only on special occasions and had a fabulous jewelry and handbag collection. When going out on a date she knew how to glam it up but at home with us she knew that silk in the kitchen wasn't practical (we spent a lot of time in the kitchen cooking as a family). There was a California ease about her style..nothing too calculated. She rarely had manicures or pedicures and opted for less fussy hair styles. She wore stylish glasses and would swap out for contacts for formal occasions. In her sixties she has gone gray naturally and left being blond as a thing of the past. I totally love that she embraces nature. Her skin just glows from treating her body right, and picking the right facial products.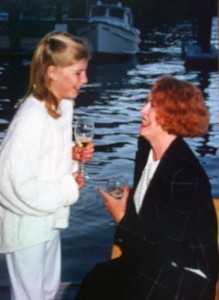 (Nina in one of her great outfits and I)
My Godmother Nina ran a clothing shop in downtown Sausalito with her husband. They served espresso in chic brown cups to their clients and I think that's where I got the idea to always pamper my clients. Nina was a soft autumn and would often change her hair color and then wear monochromatic clothing to match. I saw her hair as champagne, rust, and strawberry blond. Each time she changed her hair she seemed to don a new color palette which always complimented her hair and skin. She had chic 70's jewelry like a big cognac diamond set high like prongs on a thick hammered band, and stacking gold bangles. I never saw her without her makeup and perfected pointy nails (in a color to match her outfit).Often her lips would have a matte brown or light rust colored lipstick; never shiny, and always matte autumnal colors.  She was 70's modern chic but often changed her look with color. She wore colors like rust, cream, beige with such elegance, that I would often just love staring at her from top to bottom. You could tell that she spent time and effort making herself that beautiful. Nina treated me with grace and like I was a mature adult. I think she could see who I was on the inside not the outside. She was one of my most favorite people in the world and I miss her almost every day.
My step grandmother married my grandfather the year I was born so I always thought of her as my grandmother. She is stylish and dramatic. I've never seen her without her signature makeup with red lipstick and short wavy hair. She wears bright and bold colors…colors that I've only dreamed of wearing..fuchsia, electric blue, red+black, black and white. She's a bold winter and although she's not a size 4, she knows exactly how to dress her body in a flattering matter. She cooks in silk blouses and her version of 'casual dinner' is pressed slacks, silk blouse, and chic blazer. Her dressy is my formal. She would never be seen in her pajamas, as she's too much of a lady. She can wear bold prints and strong jewelry. She's worn so many glamorous designer labels that being in her dressing room in the turret in Maine was always my favorite place to cozy up watching telly on a tiny tv. Just to be around ARMANI, ST JOHN, ESCADA, CHANEL seemed like heaven to me. Every outfit coordinated with matching shoes, bag and jewelry. Nothing was ever out of place and it was pure perfection…100% totally her.