Where have all the boot-cut pants gone?  Are you having trouble finding boot-cut pants?
I know I am!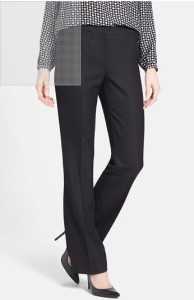 Just this week I helped build a new wardrobe for a petite finance executive who prefers boot-cut pants. Then I get an email from a potential client in Australia who works in Hong Kong who is having trouble finding boot-cut pants in her size. When I went into Joe's Jeans in Soho to replace my favorite high waisted boot-cut white jeans there was only ONE style that wasn't a skinny cut.
Here's the thing… right now the trend of the cropped or skinny legging has taken over. Yes, I understand that most designers pick up trends but this is getting out of hand especially since that style is prescribed to a very small number of the population.
My client's husband even told me every woman he sees on the street are in skinny leggings.
Why do we get so swept up in trends?
Simply because the market doesn't offer alternatives in bounty. Most of the fashion magazines show new trends which may not actually be wearable styles (real simple is an exception).
It's a needle in a haystack hunt that can even make a stylist go crazy. My friend who is a talented makeup artist, Agata Helena, said to me last week " I love that you have never succumbed to trends. You just wear what looks good on you." Wow! That made me really feel good. But here's the thing…that's what I want for my clients too.
So this post is an open letter to the powerful department stores… Bloomingdales, Saks Fifth Avenue, Lord and Taylor…
Can you please do a better job and buy garments that aren't just trendy but flattering? When skinny comes in, stock it but also stock other options? And while we're at, it please bring back petites and plus sizes in a bigger way. The options for petite and plus are dwindling and these women are still walking this earth.
This is not a new issue as 2005 NY times published this piece…but in the last year it has gotten even worse.
http://www.nytimes.com/2006/05/28/business/28petite.html?pagewanted=all
And if you're searching for boot-cut pants try more classic designers like Brooks Brothers, Banana Republic and NYDJ.
Oh, and Hue makes a boot-cut Ponte legging that is pretty great at $44.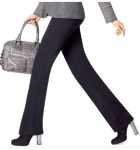 or you can have them made for you.  Some options are:
| | | |
| --- | --- | --- |
| St. John |  Boss | Halogen |