Can we talk about greatness?
Tumi greatness?
I'm not the one to talk a lot of companies up. I'm not an editorial site and have never wanted paid advertisers.
But as a big world traveler I know how beat up luggage gets.
My Tumi super leger softpack carry-on got so much use from using it like my car around Manhattan (great for schlepping groceries) that the zipper broke.
So years after purchasing it on sale at Macy's, I took it into the Tumi store where I paid to ship it to them for repair.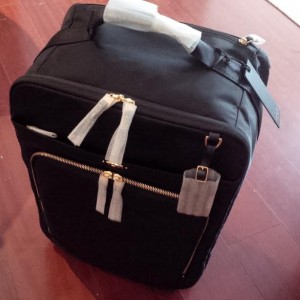 About 10 days later they called me and said that they couldn't repair the bag. But they offered me an updated version of the bag or $448 in credit. I opted for a brand new bag in black with gold zippers. Never been a big fan of black luggage but this one is beautiful. And they offered to ship it to me in 5 business days.
Wow, I'm impressed. Can't wait to use my new bag.
I wish every company made it this easy.
Sadly they are discontinuing the Super Leger series which was a roller but soft pack. You can still buy one here.
If you want more insider resources that I've vetted + the inside track on my next book, check out my video with my top 3 secret style spots in NYC here >> http://bitly.com/1HsOhSu
.