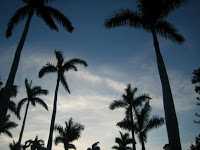 Blogging from the airport! I love technology and my new air.
I'm off to Miami for Art Basel. Years ago I attended the innagural show and I'm excited to see how it's exploded. While down there here are a list of the other shows taking place at the same time:
Art Basel~www.artbasel.com
Scope–~www.scopeart.com
Aqua Art-~www.aquaartmiami.com
Nada~www.newartdealers.org
Pulse~www.pulseart.com
Miami Project~www.miami-project.com
New Material~www.newmaterialartfair.com
With huge sponsors such as UBS and BMW the parties should be off the hook. My calendar looks a lot like fashion week and choices will have to be made. Bring it on south beach! I will be watching for fashion blunders and victories.