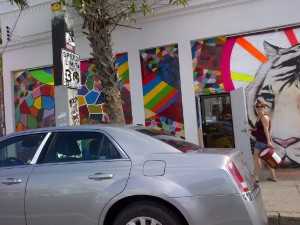 I've always gone to Art Basel to get inspired.
Well, that's not true anymore.
I attended Art Basel Miami the very first year it opened in 2001 and often over the past 6 years. This year however, I decided to forgo the Art Basel art show at the convention center. Why, you ask? Well, they got too big for their britches and frankly speaking, they refused my press accreditation. They simply said they were going in a different direction and were being very selective this year. I guess they aren't interested in the intersection of style and art and that's ok.
To be honest, the past two years when I walked the aisles I didn't feel "inspiration" but rather, "malaise". Here were supposed to be the "blue chip", "crème de la crème" art pieces of the international art world and it was leaving me cold and bored.
The focus of the fair has morphed into placing art into museums and the tone of the dealers…the opposite of welcoming and open.
Art Basel weekend, which is really only supposed to be one week long is rumored to stretch out to two weeks next year. It has become a huge monster of an extravaganza and has turned into a branding opportunity for liquor companies,car companies, fashion magazines, fashion companies, and an all-around smooze fest for New Yorkers and the international jet set.
In truth, it's a party that lasts a week. But I don't go for the parties. I avoid them. Yes, it's a huge shocker… I know. But I'm interested in the daytime; seeing art, meeting artists, and being real.
In today's Miami, you could do a full week just touring spas+beaches – the Standard, the Fontainebleau, Turkish Bath, etc. Then, do another full week of just fabulous restaurants+shopping – Bal Harbour, Design District… Add one more week and you can tour the local art galleries like Diana Lowenstein Fine Arts and the Wynwood Walls (which are basically awesome grafittied walls in Wynwood). There really is no lack of attractions these days.
This city has become rich with so much more than nightlife which originally brought me to Miami during college. Miami in the late 90's was much different than today. It came alive at night and the seediness of Washington permeated the whole beach. Now it's much more "spiffy".
Where to Eat
A la Folie Crepe Cafe – Come for the crepes, tolerate the snotty french wait staff.
The River – local joint with excellent food
Soho House Beach Club – Spotted Kelly Killoren Bensimon, soaked in the young scene, and snacked on avocado+tomatoe salad.
Raleigh for Brunch
Delano ~ yes it's still relevant. I can't believe it but it's true. One of the first hot spots which blew my mind when I originally visited Miami. We rubbed elbows with George Clooney at the pool and spent 2000 New Years watching Amanda Lepore strip.
Which brings me to another point. I'm totally irked that artists aren't encouraged to be present at booth fairs. Not only are they not encouraged, they are practically banned.
Dealers are afraid of artists poaching clients. What a ridiculous notion since most artists are challenged by selling; if they could sell their work, they wouldn't need dealers to begin with. Wouldn't it be so much smarter to have the artist on hand for extra color?
Here's the rest of my run down of the Art Fairs in Miami Beach 2013 during Art Basel"
Nada ~ Just like last year, I saw nada at Nada. Not sure why this fair gets so much street cred. To me, it's bad "out of art school" art sold by hipsters. Very lower east side with shoddy execution.
Aqua Art ~ One of my top favorite fairs. Some up and coming talented artists and always fresh new talent.I ended up meeting mixed media artist Sheila Gioletti in Mayer Fine Art's booth who showed me her new work.
Art Miami ~Felt stale to me this year. It seemed like the same artists and same art series in the same booths as last year. Go once but not repeatedly.
Project Art ~ Some wonderful fresh new talent. For example Lesley Heller Gallery booth and the light and glass installation by Cathy Cunningham-Little.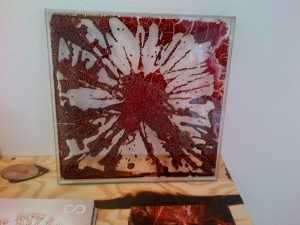 Scope ~ Another top choice with variety and just the perfect balance of execution and ingenuity. Love the new location on the beach. I ended up snatching up a Jordan Eagles from Natalie Katy's Gallery. Jordan is an artist who works primarily in bovine blood and copper. I've been watching his work for the past 6 years and his work is in 3 museums. I'm tickled to finally be an owner of a piece. I also ran into the ever talented Jonathan Stein who showed me the new direction of his work.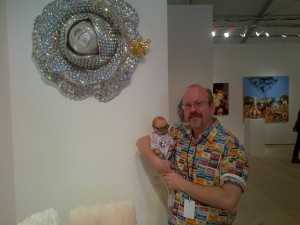 Pulse ~ The best fun VIP brunch. Unexpected, fresh, and playful art. Kudos for the 1968 Shasta compact trailer turned into a roving nail salon by Breanne Trammell.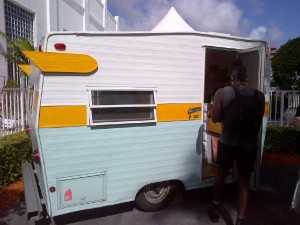 Untitled ~ Don't bother. Not worth it.
See you in Miami next year!