It's a wonderful day when a client raves about a brand to me. One of my CMMs (chic Marin moms) shared with me her new favorite shoe brand because her pair feels so darn comfortable and is yet beautiful. I looked into Anyi Lu of Tiburon, California (my hometown), and her story, and it all made sense. The designer's background is in engineering, but for fun she has competed in ballroom dancing competitions.
Anyone in the ballroom dance world knows that ballroom shoes are the most comfortable in the world due to the flexible heel, but most of them cannot be worn on pavement because of the suede bottom. (I too racked many hours of ballroom dancing in my younger years.) If you want to learn more about her bio, read the New York Times article here.
So many of my clients need comfortable and stylish shoes for public speaking, presenting financial slideshows, meeting with clients, or hoofing it around the city. Who wants to do the sneaker pump shuffle? Not me!
Anyi Lu is sold at Nordstrom, Zappos and Beren Shoes online and in San Francisco. Here are my two picks for fall:
"Vanessa" Ankle Boots – SOLD OUT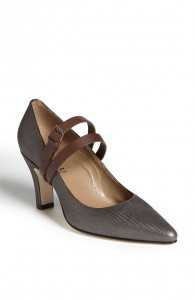 "Sophia" Pump