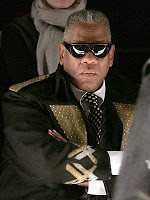 Fear is Not an Option" – Andre' Leon Talley
Guest Post by Mary 'Coco' Assenmacher
Vogue's own Andre' Leon Talley was the guest speaker at New York's Fashion Institute of Technology (FIT) Thursday evening serving up thoughts on personal style, etiquette and grace while being interviewed by Valerie Steele. Not to be upstaged by the PETA protesters outside FIT, in regard to Mr. Talley's penchant for wearing fur, he made his regal entrance in a Karl Lagerfeld Couture 'Tiepolo Red' McFarland cape and embracing his own essence of 'high and low' brow fashion, paired it with a crystal-adorned NAACP t-shirt created by Harlem's own Gerald Matthews. Andre' spoke of his Grandmother, his dear friend and mentor Diana Vreeland and of designers Karl Lagerfeld and Alexander McQueen to which Andre' stated of the former, 'we've lost a poet – a master of romanticism'. Especially interesting was the idea that clothes are a 'code of correctness and appropriateness', an idea Mr. Tally shares equally with Ms. Vreeland. Apparently Ms. Vreeland also felt that polish was a particular code of discipline, therefore prompting Andre' to spray shellac his own set of Louis Vuitton luggage. Polish indeed. "Personal style comes from within", he reminded everyone in the audience. He championed new designers with the ideals of "always live your dreams" and "never give up on your dreams". Finally, we were left with these words of inspiration; "Fashion is a multifaceted stone."… "Whatever you put on is fabulous, because it came from your own fantasy".
Mary (Coco) Assenmacher spends her nights as a cardiothoracic surgery nurse practitioner in New York City, with her free time spent both printmaking as well as living and breathing fashion. "Fashion inspires me to do anything I want to do".