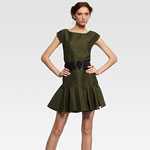 In New York, black has felt like the unofficial uniform. Yes, it hides dirt, but it also sends a subliminal message that might not be in alignment with your personal brand.
Black is symbol for death, and to me, it's an overused color for those on a budget or who are too tired to color coordinate. I, for one, am really excited to see colors from the runway making it onto the sidewalk.
It's a myth that black is the only color that can slim you. One of the tricks I teach my clients is the power of other colors that are more flattering to their faces but also slimming to their bodies. It's like losing 10 pounds visually without the diet. Colors like navy, brown, grey, eggplant, deep burgundy, deep olive, and deep forest are amazing for the figure and also hide those lumps (you know, the ones you don't have). So why not try a new color that flatters and brings out your eyes, hair, and skin tone? You've got nothing to lose!