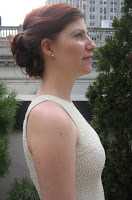 I get so many compliments on my skin that I've decided to post my face secrets. This is dedicated to you SJ!
I've always been into organic products for my face. Here is a list of my favorites. After much label reading I break it down.
Kiss my face makes a wonderful exfoliating cleanser from rickys
Avalon organics has a pretty good cleaner and moisturizer sunscreen
ilike whole line is incredible-buy from donna chazen dlcskinhealthbeauty@msn.co
m. She is an all around face guru. ask her anything!
eminence skin care line is also very organic and uses alot of fruits-I love the maise exfoliant
onurth at shopsimpleskin.com makes an amazing mask, serums, and hydrolats
pangeaorganics.com has a blood orange cleanser that is wonderful
lush is the best for so many things. i love their fresh masks, mask of magnaminty, imperialis creme
sunscreen is a must!
I like aveda tourmaline charged lotion spf 15
soukenberi.com is brand new company. I love their body lotions lavender/jasmine
Facial from Magnolia in williamsburg brooklyn can't be beat. Ask for their organic facial. Last time I was there it was $75
I don't clog my skin with foundation. I just dap concealer when needed.
There you go!