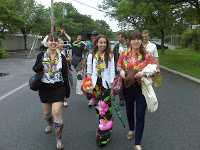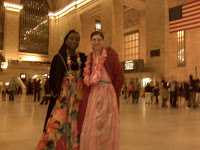 Last night I attended one of the wackiest birthdays ever. A blog (http://hawaiianbirthdaytrip.blogspot.com/) was built for the invitation, Obama was invited, grass skirts were worn in new ways, rice crispy treats were formed as Jesus on the cross, umbrellas were brought for drinks, trailer park turtle treats were served, I had the best lei, and fun was had by all.
We traveled by rail (the 4:20) to Tarrytown where we landed at the Washington Irving Yacht Club where it was still drizzling so we had the outdoor tent to ourselves. A very merry and bright group we managed to terrorize our hot conductor Steve who cringed at our cat calls. I think we may have gotten him in trouble…Oh well, we were too busy having too much fun to care. The Hawaiian theme was carried out by all who attended but as the party went on, our outfits got crazier and wackier. More leis were layered on, grass skirts adorned waists, necks, caps, caftans were added, coconut bras were added in new stylish ways. I personally had two outfits. One black and white hawaiian print skirt with sleek top, lei, red coat and then once the party was under way I draped myself in mind altering and blinding orange and white caftan, orange sunglasses, scarf as obi. I was not the only guest with Japanese slant to the Hawaiian theme.
I think the photos speak for themselves.