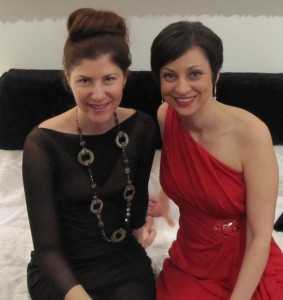 MISSION: One Perfect Dress
Behind the Scenes of Fashion Emergency Package
Last week I worked with an out of town executive client who needed just one special thing. The perfect dress as a west coast wedding guest.
She didn't want a LBD as she had several at home for work and she wanted something for an afternoon wedding with a night time reception which would be fun to dance in. Style wise she asked for 'euro chic' from this great book by Lucky.
I added several other criteria into the mix for example-flattering color on her, shape that would balance her figure, travel friendly (wouldn't wrinkle too much), ability to wear again to another occasion, age appropriate, and under $400. Timing wise I knew the stores would be pretty stocked with new arrivals of spring dresses but the budget would be tight since sales were ended.
I set forth and pulled a racks worth of dresses at Lord &Taylor but didn't really feel satisfied. There were some decent dresses but nothing that really knocked my socks off and felt were right for my client. So I hit BCBG and pulled 3 dresses there but felt they may be a little too young. That night I felt that my work was not yet done so I called into Saks last minute and headed up there. While I was pulling at Saks my client was at my private bra fitter getting the star treatment and bras that fit perfectly. Yvonne helped me in the dress department and I felt like I really hit the jackpot.
Most of the dresses in her price range looked more expensive and the variety was so robust I pulled 27 dresses. Colors were rich and I knew were in her palette. She arrived to an exploding dressing room and we got to work. She then also clarified a few points which she hadn't mentioned before so off the bat we could eliminate a few.
In the end it came down 3 major contenders. A green Laundry dress with chain collar, a red one shoulder Badgley Mischka goddess cocktail, and a bronze draped dress also by Badgley Mischka . What was exciting to me was to hear my client say, "who knew I was such a Badgley Mischka fan" as several of his dresses were major contenders. I love it when my clients are introduced to new lines or their style view is expanded. A gratifying experience and the proof is in the pictures and the fact that she decided to wear the stunning red dress in honor of Valentine's Day to dinner.

Go behind the Scenes of AlexandrA Stylist to see how I execute a Fashion Emergency. Sometimes you just need ONE perfect dress for that wedding. The dresses, the drama-actually there's no real drama because it's real not reality television. If you have questions about my process please contact me.