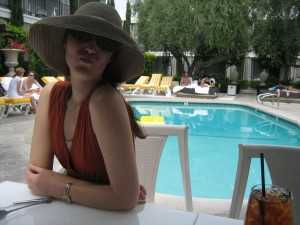 1. 'Take in the waters'. Palm Springs area is home to many mineral pools. Check out The Spring, Watsu at the Riviera Hotel, Two Bunch Palms, Living Waters Clothing Optional Spa. Day passes are available at many hotels and spas for a fee.
2.Check out the other parties-Filter party and pool parties at Riviera Hotel and Ace hotel in Palm Springs.
3. Hotel hop for sake of decor ambiance and architecture-The Viceroy, Riviera, The Parker, or The Ace.
4. Play tennis on one of the Parker hotel's clay courts
5. Fashion shopping in Palm Springs which is home to fabulous boutiques such as Trina Turk-home and fashion and Wil Stiles or Designer shopping on El Paseo in Palm Desert. There is Gucci, Louis Vuitton, Apple, Saks Fifth Avenue, Escada, and more. I love the shopping because it's great old lady fashion which fit's in nicely with my caftan obsession.
6. Guided horseback ride in the desert with Smoke Tree Ranch or Joshua Tree Ranch.
7. Have a spiritual experience visiting Joshua tree national park.
8. Check out the mid century furniture shops for some cool collectibles-Modern Way owned by Courtney Newman, Retrospect, DWR outlet shop, pop up not neutral, blvd, Christopher Anthony who stocks the most fabulous new and vintage acrylic/mirror pieces by Charles Hollis Jones, and A la mod.
9. Gourmet grocery shop at Jensen's with no check out line hassles. Make a healthy dinner.
10. Have lunch at the GastroGnome in Idyllwild for local artist sightings and a cooling retreat.
11. Breakfast or lunch at the forward thinking eatery Cheeky's.