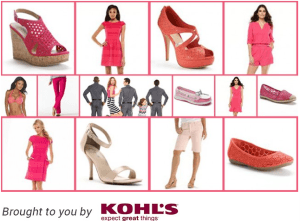 As seen on Galtime.com
By Katie Parsons
This spring, pink is the color on everyone's lips: Add bright pink, fuchsia, magenta and more to your home and wardrobe.
New York City and San Francisco Bay-based personal stylist Alexandra Suzanne Greenawalt agrees that pink will be the color on everyone's lips, and feet, this spring.
"You will see a lot of pink in foot ware because it's easier to wear and less of an investment than an outfit," she said. "I would advise to make sure the shade of pink works with your skin tone before purchasing it. Hold it up to under your face and see if it makes your face glow. If not, don't buy a piece that will be directly under your face like a dress. Buy the shoes instead."
Wondering which pink is on trend? Greenawalt says that smokin' shades of pink will include Pantone's radiant orchid and cayenne. Greenawalt has worked for over a decade with "real women," helping them find what outfits make them look best and what brings them happiness. This spring, she recommends that women follow the cues from their skin tones, and personal aesthetics, when picking out what pink items to buy.
"Since most women in North America are gentle autumn coloring, this radiant orchid Pantone color isn't best. Go for the cayenne instead," she said.
There is a reason why pink remains popular season after season, too.
"I think pink will always feel feminine and girly to women. Pink is in our cheeks, lips naturally, and feminine parts. Pink is flirty," said Greenawalt.
In addition to pink, Greenawalt is seeing another color making a fashion splash already this spring: white.
"White in retail is really shaping up to be the hot color. I've been delighted to see both white A-line and straight skirts in the market place," she said.
To read the rest of the article CLICK HERE