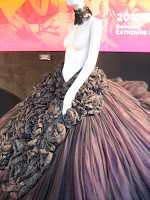 Pratt Fashion Show 2010
Honoring the fashion icon Catherine Malandrino (looking gorgeous in a pewter silk one shoulder cocktail dress and introduced by the fabulous Kim Hastreiter) was a huge draw for this event held at the Altman Building but Timothy Kuzmeski stole the show for me. They definately saved the best for last. With his over the top volumenous and artisitic creations creeping down the runway the dress needed aid of helpers to turn it around. The handiwork is even more impressive in person. It's no wonder his first internship was with the famous and New York's sole Haute Couture designer Chado Ralph Rucci. Seeing his work gave me hope for fashion as art or as Timothy says, "l'art pour l'art'. Good to know that this notion did not die with the passing of Alexander McQueen. I cannot wait to see him open his own fashion house.
Also in the evening collections worth noting were Devin Cole whose hand painted creations reminded me a bit of Rodarte, Kasia Wisniewski's deco inspired gowns, and Natalia Rodriguez's bejeweled confections.
The Costume Design collections really blew my mind. Alessandra Hammett took the very archetypal fairy tale characters and brought them to life as Queen of Hearts and Cinderella
Another crowd pleaser was Rayneese V Primrose's Thriller Death to the Homecoming queen was both gothic yet fashionable.
Kathleen Su's sportswear reminded me a bit of Heatherette yet still was innovative, fresh, and very street.
We didn't get to see any of Spencer Richardson's collection on the runway but based on the catalogue I would love to see what he does next as his knit dresses looked promising.
Also seen were collections from Julie Ann Mollo, May Samoto, Abby Powell, Jennifer Damm, Suzie Ford, Lina Fedirko, Nina Zilka, Jeff Dodd, David J Krause, Kristen Steinman, K. Paige Regan, Emma Madnick, Christie Espinosa, Christine Brown, Tiffany Nousiopoulos.
In the audience a few notables-Iris Apfel in front row looking very stylish in her signature ethnic beads, the celebrity stylist Freddie Leiba, celebrity stylist and actor Philip Bloch in a very cool hat, Hamish Bowles, Ralph Pucci, Gilles Mendel, Hal Rubenstein, and Mickey Boardman of Paper.
Did you see the show? What were your thoughts?