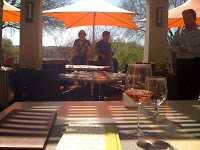 Guest columnist Nichole Wright gives us the lowdown on SXSW
From its comparatively humble beginning as a 700-band music showcase in 1987 to its current role as an arbiter of film, interactive media, music and now fashion trends – drawing in over 30,000 official registrants, SXSW has become a hallmark of the no-holds-barred approach to fun that only Austin can provide. As for the style and fashions, Austin is no L.A. or Manhattan – but it has a unique style of it's own – especially during SXSW – lot's of black & grey's, skinny jeans, short flowered sundresses, stripes, cherry red Ray-Ban sun glasses. Hipster heaven – rockabily, indie and punk style! And there were so many unofficial shows and shindigs that inevitably spring up on the outskirts of the more structured festivities.
My first event to attend, albeit on a rainy Monday Night was an invite-only St. Supery tasting and Twitter meet-up at CRU wine bar. We tasted 4 lovely wines from Napa and an assortment of cheeses. The winery's social media guy, Rick Bakas was on hand along with a big screen of live tweets from guests and supporters. Live, virtual reactions to how things tasted! NYC based media outlet, Thrillist recently launched in Austin and held an event at the infamous BBQ joint, Stubb's.
Read more juicy bits on Part 2 SXSW
Nichole Wright, Bon Vivant "girl" is an event planner, publicists, former New Yorker, and recent Austin transplant. Twitter@bonvivantgirl