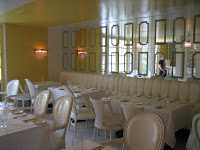 viceroy dining room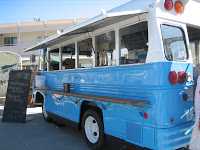 snowcone bus at ace that falls short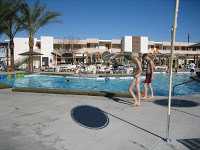 too cool for school pool at the ace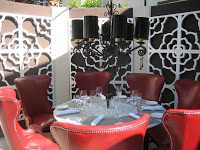 outdoor dining at the Riviera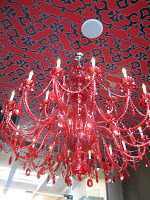 red chandelier at the Riviera


So I was in Palm Springs visiting my two honorary uncles having a grand old time during Dina Shore (lesbian) weekend. One at DINKS (dual income no kids) we were subjected to a great torch singer whose breasts were so big I might turn gay.
But anyways, one of the highlights of the trip (besides getting dust boogers horseback riding) was touring the local hotels.
Here's a rundown:
The ACE: Local mid century modern furniture expert Courtney's comment was dead on. "It seems like they are trying really hard to look like they're not trying. But really, they should try a little harder!" Decor was kitchy and clever but service fell short. It's cute that the server by the pool delivers food on his skateboard but it's not cute when the shortbus serving alcoholic snowcones lacks a bartender. Converting an old holiday inn is a great concept but a coat of paint doesn't really change much. Clientele feels young and immature-pot smoking, beer drinking and tattoo toting. Too kool for school! I certainly hope when the ACE opens on Broadway in nyc Walter does open an oyster bar and the service is up to snuff.
Dave Dixon's sexy boutique hotel Colony Palms Hotel was one of my top picks. The rooms center around the inviting pool and restaurant area. It features a charming cozy vibe and attractive guests. Such a treat to dine alfresco pool side. On my way in I passed Kristen Davis scoping the place out with her surfer hot boytoy so the chances of meetings celebrities are good.
The Parker was decorated by Jonathan Adler and is fabulously grand. It feels like a secret enclosed paradise. Beautiful landscaping and grounds. Restaurant is super dark, super low ceilings, and super lively ie loud. Not my ideal but popular. The spa has his and hers private indoor pools perfect for nude swimming. I would go back for the spa.
The Rivera: style wise this was my idea of heaven. Color and ambiance with the red, white, black, genius lighting schemes, and many mirrors. Organic clover shaped clever pool and outdoor dining. Inventive round bamboo steamer boxes are clever for pool side food presentation.
The Viceroy: still one of my favorites. Is chic since it was decorated by Kelly Wearstler (it's her husbands hotel) but totally cozy. Colors are stark white black with accents of bright yellow. Food is scrummy but the pool is the size of a postage stamp.
Being a water person I am intrigued by watsu offered at ultra exclusive desert hideaway at 2 Bunch Palms. You can find me there soaking in the healing waters next year!
Can't wait to return!