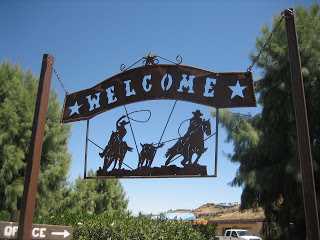 I convinced one of my honorary uncles (the funny one) to come horse back riding with me at Smoke Tree Ranch. We chose the 2 hour tour because it's more scenic and visits an oasis. I am used to riding english on the east coast and I'm clearly out of my element. Even though I was born on the west coast I'm as californian as Carla Bruni. I show up geared up in my black english riding hat, gloves, black suede half chaps and practice britches. The Old Cowboy handing over my horse 'Frankie' pigeon holed me from a mile away. He was convinced I would be flying off the horse due to my 'high center of gravity' while my uncle would fare just fine slumping in the saddle. I got the distinct feeling that he would relish the thought of a prissy english rider (with years of experience) bucked off swallowing a dirt sandwich. (Wish they had warned us about the dusty boogers). Old Coyboy and I had another showdown about horse communication. When I jokingly asked what language Frankie spoke he said that they don't speak to their horses at Smoke Tree Ranch since they had the brain capacity of a 2 year old. I beg to differ.
Once on the trail I found our guide Lica to be much more sympathetic to my englishness. When she saw my half chaps she was jealous since they are less hot to ride in. Turns out she has a dressage and show background. Couldn't tell by her cowboy boots and jeans but no matter. She also weighed in on the english/western showdown by saying that she 'rides the horse not the tack!' Lica checked in with us and asked how I was loving 'Frankie'. Frankly, Frankie was riding up the ass of the horse in front of me which I voiced and Lica advised a few half halts with a little leg. She said that Frankie was well versed in dressage! That was hard to believe since he was mangly, dusty, and was not sporting the snobby prissy look of a show pony.
So how was the ride? Dusty, short bursts of trotting, reigning my horse in, magnificent mountain views. Beauty and the beast.