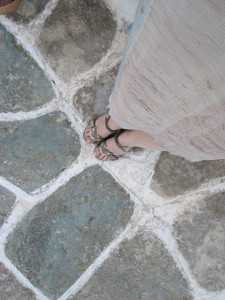 Isn't being a fashion stylist all about having fabulous stuff? I don't think so. Personally I am yearning for less stuff and more space. I have found so many times when I freed myself of unused items I gained something big later. That slight shift in the universe makes room for better bright bigger things to enter my life. Last October I wrote my first LESS IS MORE post. It seems I'm not alone in this. Obviously great minds think alike. Just as I've been getting my act together to make this LESS IS MORE a formal community project I find another wise one Bindu Wiles proposing a similar project called the #theshedproject. I won't fight ya-I want to join you.  And using September as an official starting point is brilliant as I'm in Greece on my yearly sojourn and am a guinea pig for traveling with less.
I personally would like to eliminate ¼ of my possession with focus on clothing, accessories, shoes, and stylist closet items. As I'm also currently participating in the collaborative DREAM CLOSET PROJECT it's in perfect harmony as the key to a good closet is having enough space to display.
When I travel I want to feel supported by what I have with me not weighed down.
I also would like to shed ½  of any negative thinking. Anytime a negative thought pops in my head I will banish it to the worry circle.   a trick I learned in a workshop from Elizabeth Webb and Marianna Olszewski who wrote 'Live it Love it Earn it'.
It's still taking shape but I would love to hear from you all. Are you in? What change would you like to see?
Want more of me?
Would you like to sign up for my Style SuperStar workshop starting October 5th? There are only 5 lucky spots and all you need is a desire to  bring more style and meaning into your life. We'd love to have you!  Reserve your spot ag at alexandrastylist.com.

ONE ON ONE Style Consultations:
My background is high fashion but my approach is down-to-earth sensibility and sustainability.
Need help purging the clothing and accessories in your life that are holding you back? Confused as to what should go and what should stay?
Note: I do not take clients who don't want to make change happen in their life. I'm not a surgeon and cannot alter your body. I can show you how to you look your very best. I have openings in starting September 10th.