Overseas to NYC: Dress Like A New Yorker
This article is taken from the blog http://overseastonyc.wordpress.com. Written by Liat Kornowski this post gives tips to foreigners trying to fit in and make it in the city.
And who else could give you the best style advice on how to fit in NYC, other than a NYC-based personal stylist like me? That's why Liat interviewed me and I gave them some tips on how to dress like a real New Yorker!
Read on for the tips and don't miss the end of the article for style resources that will help you look like a true New Yorker!
Enter Liat:
Your plane has just landed in NYC
Let's say you just stepped off the plane after a long flight, still in your sweats and puffy eyes. Legit, you were tucked under the airline's blanket and out of sight. But you're in New York now, and that won't fly here. You have to act like a New Yorker, and look the part too. What gives New Yorkers this über cool, semi-sophisticated, just-rolled-out-of-bed-two-hours-ago-that's-how-long-it-took-me-to-look-like-this aura? It's all in the clothes. Dress like you belong, and soon enough tourists will turn to you for directions.
"New York is very trend driven," says Alexandra Suzanne Greenawalt, New York-based Personal Fashion stylist, fashion blogger, and author of Secrets of a Fashion Stylist, a guide for those who want to break into the competitive world of fashion styling. "It is such a melting pot of other countries that you literally see everything that's going on in the world. It's really a mash up here where everything collides."
A quick guide to help you pull off the NYC look
1. Do not wear black
Contrary to popular belief, black is not back. For years and years people tried to sell us that an all-black ensemble is standard issue New York uniform, like white-on-white is for the tennis court. That's long gone though, and sticking to it will make you look outdated and more importantly, boring. Etch this into your brain: you never want to look boring. You might get away with some dark or muted attire come winter, but spring is knocking on your newly leased apt door and it's itching for color.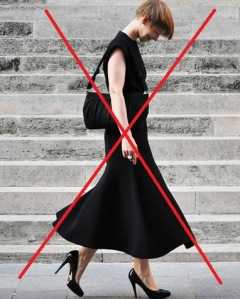 Sure, sometimes black makes you feel skinny (what the site of the above photo has actually tried to convey. The X is all my doing,) but it's uninspired and too easy. If you do opt for dark, at least play it up. For example –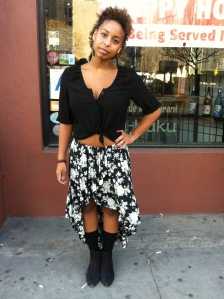 Baring your midriff is right on the money at the moment anyway, New York or otherwise. Playing up two different lengths in one skirt is also a way of making the been-there-done-that black fresher. But what is really the equivalent of wearing a "I heart NY Tee" (without, god forbid, wearing one) is …
2. Wear color
One of the key things to remember about New Yorkers is that they always look effortless. It is a well crafted lie that someone must have started long ago, and someone else saw him and said "man, he looks so cool without even trying," put a lot of effort into copying him, and voila. It was on. So before you start mismatching colors (and the more, the merrier,) make sure it looks "thrown on." Remember: this is not the 23rd outfit you tried on this morning. When it comes to colors, everything goes. Literally. "I'm a 'the blacker the better' kind of girl, it's a safe choice," admits Leigh Grossman, the retail marketing coordinator of Superdry USA. "But I just as easily mix bright reds with leopard print. It's a way to convey the mood you're in and since it's New York, any combination works." Hot couture, fashion runway mavens and them will try to tell you there are do's and don'ts, but on the streets of New York, different rules are at play. Exhibit A: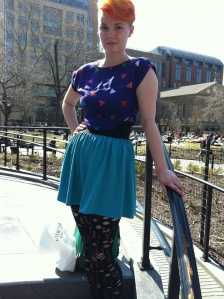 Thus, the only thing you need to keep in mind regarding color is — have fun with it. If it's not supposed to work, wear it. Listen to your counter intuition. No one will ever look at you funny (there's a naked cowboy at Times Square for God's sake. You have to be pretty extreme to be ridiculed,) and the neons and pastels will likely brighten up your day.
3. Cover your head
Straw hats and fedoras in the sun, beanies in winter. No matter your gender or what season it is, in New York a hat always works. That is not a defense for a backwards baseball cap in the office, but you may slap on a thinking cap anywhere outdoors. I.e: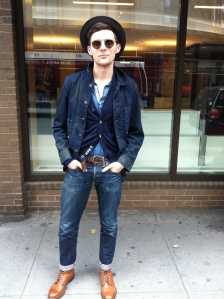 A hat is the kind of accessory that ups any outfit a few notches. It can be in color, it can be plain. Either way, the vibe it gives off is that of an urbanite in the know.
4. Rolled up pant-cuffs and moccasins
Sure, rolled up cuffs work with any other shoe, and moccasins go with skinny jeans. But together they're like Carrie and Big. Meant to be. This particular look has been sold to (and spotted on) both guys and girls, but it works better on men. Not that girls can't attempt it, but just keep that in mind. The idea behind it is looking somewhat nautical while very much in the concrete jungle, looking as if you're on vacay while mundanely on your way to work. The fact that it's your lower quadrant is also part of its charm, a kind of stylish peekaboo. Exhibit B: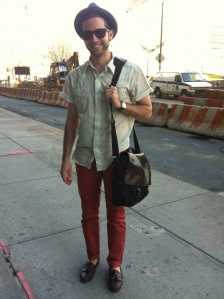 5. Mix patterns and fabrics
Just like colors work every which way, so do patterns and fabric. When in New York, be brave. Be bold. Be daring. "It's no longer uncommon to dress 'odd'," adds Greenawalt, "unlike when I was growing up, when it was all about fitting in." So wear lace with leather, chiffon with pleats. Mix floral prints with pin stripes or polka dots, have two intricate designs clash, layer one on top of another. True, girls have an easier time pulling this off, but women's magazine have tried (and still try) to limit this trend. "If you wear a patterned bottom, have something muted on top," they say, or "mix different textures but of the same color." Blah. No. Boring. It takes just one subway stop and a close observation of those who step on and off to realize it doesn't translate here.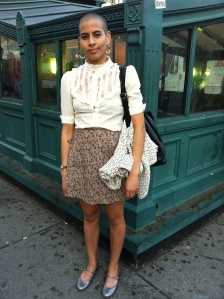 "Pretty much anything goes here," concurs Elle Fure, fashion blogger who also works at Vogue. "No other city in the world embraces novelty the way New York does. It encourages you to experiment, to set yourself apart from everyone else trying to set themselves apart. It's a city that really understands that style stems from individuality and thereby fosters it."
6. Feminine and masculine combined
One of the best looks for girls of all shapes, sizes, and origin is a feminine dress paired with rough, manly boots. New York women in general are usually a two (and toned) legged powerhouse: they have a killer career or are just on the brink of; they date, they have fun being single, they're in a long term relationship with someone who looks like he just finished an Abercrombie photo shoot, they do all of the above; they walk around with a bag so big it puts Mary Poppins to shame but make it seem lighter than air; they always have a place to go, a meeting to attend, a yoga class they're late to. The billowy dress with the loose boots encompasses that essence exactly.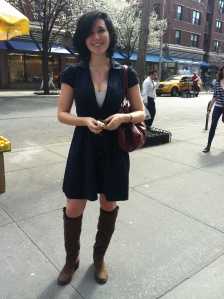 That said, Fure thinks what unites New Yorkers in their fashion-forwardness is heels: "the higher, the chunkier, and the louder, the better. It's all about cab-to-curb," she explains.
7. Blazers are essential
Blazers of all lengths and colors go with everything. New Yorkers are much like tourists in the sense that they leave their place in the morning and pull through the entire day and half the night before they go back home. The blazer, in that instance, doubles as business attire and evening wear. It works over pretty, girly dresses; paired with jeans (dark and light wash); coupled with skirts, both tight and pouffy; and can be altered: open, buttoned up, rolled up sleeves, etc. Exhibit C: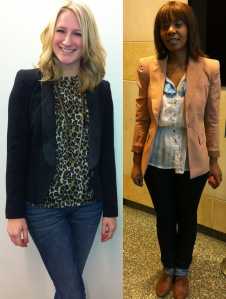 Some more things you can never go wrong with:
big glasses and/or big sunglasses
a leather jacket
statement jewelry (a "here I am" necklace) or statement accessory (gold-studded bag)
see-through pieces (give some thought to your undergarments)
Tee shirts, from any era and paired with pretty much anything (from skirt to chinos.)
Lesson learned: in New York you either dress for success, to impress, or to express. Yourself, that is. If you can check one of these off, you're good to go. Just don't forget not to smile.
Want to dress like a true New Yorker?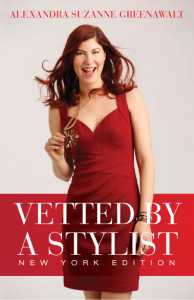 Get my top style resources, secret contacts and best tools that will help you get that fabulous NYC look! All that in my latest book "Vetted by a Stylist". Read more ☛
Looking for 1 on 1 Style Advice?  Click here to schedule your complimentary 30 minute style assessment call dedicated to find out how you can transform your style and end closet overwhelm today.