About
With the right outfit, you can accomplish anything.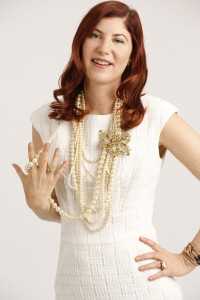 Hey, I'm Alexandra (my friends call me "Lady A")—a style strategist, wardrobe rehabilitator and image expert based out of New York City and the San Francisco Bay Area.
With over thirteen years' experience styling women of all shapes and sizes under my red-patent skinny belt, the most rewarding part of my job is that I get to revamp the closets of REAL women leading REAL lives.
Real women like you and me.
Women who understand that curves come and go—and that a closet crammed full of haute couture doesn't guarantee happiness.  
(Or a good fit, for that matter.)
When you're in alignment with what looks and feels good on you, then you'll love what you wear . . .
And when you love it, you'll wear it. (Simple, right?)
It was Yves Saint Laurent who said, "Fashion fades . . . but style is eternal."
And, I've gotta say, I wholeheartedly agree.
I'm not interested in labels. Instead, I'm unswervingly interested in the quality and merit of a garment—and what it can do for you.
When we work together, I use a four-pronged approach to help you build a workable wardrobe:
My experienced eye (wink, wink)

My extensive training in color palettes, fit and form

My down-to-earth attitude and ability to make you smile, no matter what

My holistic approach to style (because YES, your personality DOES come into this)
With my instinct for shape and color, I walk you through exactly what you should be wearing to show off your best attributes—and I teach you the fine line between when to save and when to splurge.
Put it this way—you don't have to shell out tens of thousands of dollars to look like a million bucks.
And neither do you have to look the same as everybody else.
At junior high during the '80s, while the popular crowd sauntered around clad in clothes made by ESPRIT, I realized nothing fit my figure the way I wanted it to.
Frustrated by what I saw in the mirror, I became determined to be accepted by the cool kids.
But after experimenting with my look day after day, I began to rock out my own sense of style—like the flower-print Betsy Johnson dress and peplum black jacket I showed up in at my 16th birthday party (complete with long gloves, to match).
My clothes became a way for me to express myself—just like the Madonna song.
Later, after interning for a fashion PR agency in Paris and graduating from Boston University, I started an online fashion and nightlife magazine (reaching up to a million unique visitors each month).
Before long, word about my devotion to style had spread and I found myself dressing friends back in Boston and organizing fashion shows in nightclubs.
From there, I managed to land myself a PR job in New York City, before taking the plunge and deciding to become a personal stylist full time.
So I know what it's like to want to look your best at all times—and to fall short, time and again. And nowadays it's my passion to help as many women as possible to unravel their personal style.
This is it, for me.
And I've never been happier.
Style is the ultimate secret weapon.
And, in my opinion, it's the KEY to unlocking your success on a grand scale.
If you want to find a style you adore that reflects who you are, then let's talk.
We'll have you feeling more confident and comfortable in your own skin (and THAT dress) in no time at all.
- – - – - – - – - – - – - – - – - – - – - – - – - – - – - – - – - – - – - – - – - – - – - – - – - – - – - – - – - – - – - – -
First timer?
Welcome! Sign up to grab my FREE podcast and learn how to buy like a stylist. Plus get style advice dropped right into your inbox every month.
Ready for me to become your go-to personal stylist? (I couldn't be happier.) Check out my personal styling services here.
- – - – - – - – - – - – - – - – - – - – - – - – - – - – - – - – - – - – - – - – - – - – - – - – - – - – - – - – - – - – - – -
Say hello!
Email: ag@alexandrastylist.com
Pinterest: I love to pin. Join me?
Facebook: It's a virtual style fest, up in here.
Twitter: @alexandrastyle
Love,
Alexandra
Professional Bio
Alexandra Suzanne Greenawalt is a fashion and personal stylist in New York and is the author of Secrets of a Fashion Stylist. Her photoshoot styling work has been published in Japanese Vogue, The New York Times, InStyle Magazine, Marie Claire Magazine, Surface Magazine, and many more. As a style expert, her knowledge is a valuable resource. Alexandra has been a guest style expert at several media outlets including Wake up with Al on the Weather Channel, CNN Money, Yahoo Finance, Real Simple, Fab Fit Fun, Shoptopia, and Sheknows, and she is a regular on the women's radio program Luscious Life with Yolanda Shoshana. Alexandra has worked with celebrities such as Jennifer Hudson, Duran Duran, and Antonia Bennett.
Her 5th avenue atelier currently specializes in helping women through a variety of styling packages, including her signature Style Re-invention, a 7-session program that kicks style into high gear. Alexandra's unique approach is to nurture each individual's style, working holistically and crafting a personal style prescription to make a lasting impact on each individual's style and image. To unwind from her creative biz, she makes collage mosaic art and makes improv comedy.