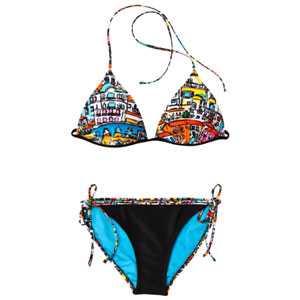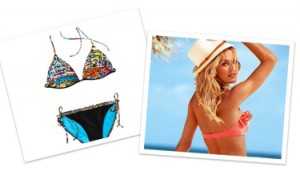 From finding the perfect fit to showing the right amount of skin, these bathing suit shopping tips and tricks will come in handy when you hit the beach.
You braved the gym. You skipped dessert. And let's not forget about all that cold weather you soldiered through (in your finest winter boots, no less).
Now that it's time to show it all off in the bikini you've fantasized about since Christmastime, the only thing you want to worry about is finding the nearest beach. But you waited way too long — and wore way too many sweaters — to settle for anything less than the perfect two-piece.
"Not everybody is a supermodel, so that's why there are so many different types of swimsuits and styles. The most important thing to remember is to find the suit you are most comfortable in," Zappos.com style editor Marie Kojitani tells Yahoo! Shopping. "As long as you are confident, you will look great."
But hitting the sand in style means making the right decisions before you head to the shore. Just in time for summer break, Yahoo! Shopping is breaking down the mistakes to avoid when you're buying a new bikini.
Let Your Body Talk
After months and months of covering up in coats, you won't be leaving much to the imaginations of your fellow beachgoers when you rock your bikini. So before you catch some rays, before you even pick out your suit, take a look in the mirror.
"You need to really come to terms and make friends with what you look like," says Audrey Slater, Redbook magazine fashion director. After all, when it comes to finding the suit that suits you, it's all about accentuating your body type.
"Selecting a color or shape which is trendy but not flattering to your body" is a serious "don't," says Alexandra Suzanne Greenawalt, a New York-based personal fashion stylist and author of "Secrets of a Fashion Stylist." "Ask yourself, 'Does the color make your eyes, hair color and skin tone come alive?' You want that answer to be yes."
Women who have athletic physiques can go girly with ruffles, which soften a less-curvy figure with a feminine touch, Slater says ($76 – $82, Bloomingdales.com).
On the petite side? Take your style to new heights with a top that draws the eye upward; think prints and bright colors, like this suit from Xhilaration ($14.99 – $17.99, target.com). Another trick to make you look taller: Flaunt those gams with a high-cut leg line that sits "almost to the hip," Slater says.
Trying to minimize your mid-section? Slater recommends a fold-over waistband, such as this blue and red bottom from Volcom ($38, Zappos.com).
Self-conscious about your hips? Suit up with a skirted bottom that hugs your curves the right way, says Kojitani, who recommends this Becca by Rebecca Virtue style ($70, Zappos.com).
But, more importantly, "play into your best features — don't be shy," advises Sharleen Ernster Lazear, executive vice president of apparel/swimwear design at Victoria's Secret. "If you love your bust, push 'em up."
Her recommendation: a twist-front demi triangle top with push-up power ($48, victoriassecret.com).
Don't Be A Total Showoff
There are better ways to impress the lifeguard. Greenawalt's biggest bikini pet peeve? The little things, like "teeny weenie bikinis," she says.
Slater set a go-to rule when it comes to showing skin: Busts should be covered up three-quarters of the way. "It's still sexy," she says, "and it's not like you're wearing a T-shirt."
This daisy-print halter-top from Roxy passes the test ($42, roxy.com) — and it will totally hold up during a shore side volleyball game, if you're set on impressing that lifeguard.
Know What's Up
Fun in the sun can mean hanging ten in the ocean — or working on your tan poolside. So think about what you'll be doing while you don your bikini, says Stephanie Solomon, Bloomingdale's fashion director.
Plan on taking a dip? Opt for a swimsuit with straps, she says, like this floral Betsey Johnson stunner ($82 – $128, Bloomingdales.com).
"Very often, if you buy a strapless [bikini], it will end up down and around your hips," Solomon says. Adds Slater: "If you're going to be running around chasing little kids on the beach or being sporty, or maybe you're more of a sitting-by-the-pool-drinking-a-cocktail person, you need to make sure the suit you're going to buy is going to serve you well in all those different roles."
And if that role is the latter, take your summer day sip by sip in your pretty-as-paradise attire, like this fringe-embellished top from L*Space ($68, Zappos.com).
Show Some Support
How can you look fabulous and fit in your bikini? The answer: a fabulous-fitting bikini.
Saggy bottoms and loose tops — that's no way to make a stylish splash this summer. "There's no reason to walk around showing off your body in a poor-fitting product," Lazear says.
Your bathing suit will likely stretch a little bit, says Solomon, so "if it's a little too small, then it's probably going to be fine." But Slater cautions shoppers who size-down: If you want to show off your, um, below-the-belt assets, opt for a bottom with less coverage instead, like this neon hipkini from Victoria's Secret($18, victoriassecret.com).
And it's all about giving those assets the support they need. For instance, ladies with more on top should opt for tops with thicker straps and underwire, says Kojitani, like this striped Michael Kors suit ($76, Zappos.com). You'll want to take your support system for a test drive, especially if you plan on keeping active in your two-piece.
"You need to move around a little bit [when you try your swimsuit on]," Slater says. "I'm not saying you need to be doing jumping jacks — but go for it if you're in the mood."
Shoppers often forget to treat their bodies as two halves, she says, so go with what fits, even if that means buying different-sized tops and bottoms.
Don't Sweat It
Between tan lines and sunburns (and that hot lifeguard!), you have enough to think about when you strip down into your swimwear. So leave your insecurities back home in your closet with your winter ware because the true secret to looking hot doesn't have a price tag.
"There's something about a woman who wears a bikini with confidence," Solomon says. "She still looks spectacular."
So mix and match bold prints and colors, and build your bikini wardrobe based on staples, like the classic triangle top — it's "the universal top," says Anne Kelly, Roxy Swim national sales manager — from Roxy, which is available in summery favorites such as orange and yellow ($40, roxy.com).
"You're probably on vacation. You're probably not at work," adds Solomon. "Have fun."
Original Article on Yahoo.com by Alison Schwartz