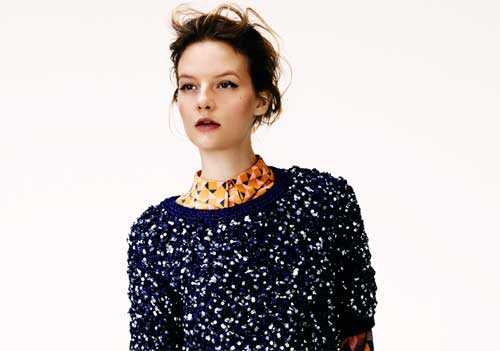 Whether it's the office party, your best friend's annual New Year's Eve bash or your significant other's seasonal charity event, odds are you'll have an occasion you need to look good for this holiday season. Follow these tips and you're bound to look good—even when taking the outfit from daytime to nighttime.
This winter, expect to see some edgier outfits, forecasts Sarah Gore Reeves, fashion editor of Vogue Mexico and Vogue Latin America, who describes "leggings and motor boots with cool tops that go past the rear end." Jeweled and lace tops, embroidery and festive colors like red and green will also be ubiquitous on the holiday party circuit.
Alexandra Suzanne Greenawalt, author, personal stylist & style expert at alexandrastylist.com, also predicts we're in for a colorful season—one filled with jewel-tones. "I'm happy to report this season says 'no' to black. There are plenty of other dark colors which will have the same slimming effect. Try espresso, aubergine, deep green or navy," she suggests.
H&M's Head of Design Ann-Sofie Johansson's favorite pieces for the holiday party season include the black leather dress and metallic leopard print jacket. "This leather take on the little black dress is perfect for the party season. It's got a minimal feel that's just right for fashion now," she explains. "The metallic leopard print jacket is perfect for the office, as well as the office party!"
For the men, nothing beats a nice tuxedo jacket for a formal event, according to Johansson. "This shawl-collar tux has a nice neat cut, and looks amazing when worn with a matching waistcoat and trousers and black patent shoes, all at H&M," she says.
Keep your eye out for citrine, a golden yellow hue expected to be worn often this winter, according to Claudine DeSola, a fashion consultant, stylist and owner of Caravan Stylist Studio. She dresses celebrities frequently, and of course what the stars wear helps determine popular party attire. "Carrie Preston from 'True Blood' just wore an amazing Theia dress in Hunter Green to a charity event, Erin Wilhelmi wore a beautiful blush sequin dress to her premiere of 'Perks of Being a Wallflower' and Nichole Galicia just wore an amazing metallic dress with a halter neck for the Bergdorf Goodman anniversary celebration," says DeSola, noting metallic will be an especially hot winter trend.
DeSola predicts you'll see Art Deco dresses, cool headpieces and collared necklaces this season. "I'm dying over Salon Grafix gold metallic hair spray. It's very cool and modern and DALiiA's metallic liners and lip stains are also must-haves," she notes.
Wearing a simpler dress? Show you're trend-conscious with your shoes. Pick pumps with metallic elements or sequins. Greenawalt suggests stashing a sexy pair of heels at the office—an especially acute move when you're headed straight from the office to a function. To take a look to nighttime, add some jewelry, "let down your hair and glam up your makeup if you have time," she says.
"I often recommend my clients wear sheath dresses with jackets so they can remove the jacket at night for the wow factor," suggests Greenawalt. Simple, flattering dresses are the "perfect canvas," she explains. You can wear them often, to many different occasions, and update the look with accessories, shoes, hair and make-up.
See the full post at Daily In Depth Fashion News.