3 Style Secrets-watch now

GOT STYLE EMERGENCIES?
In desperate need to find a knockout dress?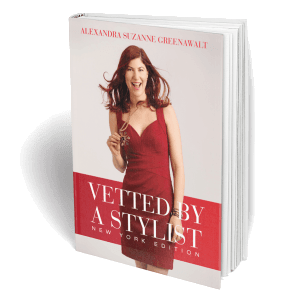 Got a hole in your favorite sweater and need it fixed?
Hate your hairdresser and need a last minute stylist to come to you?
You've got style problems I've got solutions!
For the past 13 years as a fashion I've scoured New York City for the best style secrets.
I assembled thousands of style industry secret resources in 3 massive binders.
Other stylist's would pick my brain and my binders when they were stumped.
From everything from the best department stores so that you won't look like a fashion victim to where to find touchscreen friendly gloves so you never miss a text on your iphone.
Includes:
~ Clothing+Style
~ Accessories
~ Beauty Services
~ Style Tools
~ Health + Wellness
…and so much more
Whether you're a local or a visitor this book will be your ticket to finding out over 250 of the best locales and industry style secrets for NYC.
Imagine knowing how to handle all of your style emergencies. The best resources will be on your speed dial.
Your friends will now be asking you where to go.
Consider me your style concierge for this great city! Maybe you'll even bump into me at one of my favorite spots – See you there!
My style industry resources are now your secret weapons!
Vetted will be my very first printed book. Yeah!!!
! Complete the form below to get on my VIP list and receive your advanced copy of my book once it's published.