Thank you to Social Global Grind for the praise of my blog! The social media/fashion website mentioned me (as a "must-read") in a recent article about Gwyneth Paltrow's social branding success. Read the full text below!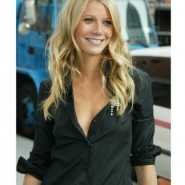 I adore everything that is Gwyneth Paltrow and especially when it comes to social media. Paltrow created Goop.com where you will have a global movie star share with you her lifestyle.
When I mean sharing a lifestyle, Gwyneth seems to have a tactile like quality in her photos and story telling of her experience. From her 9 AM call time and through out her day she shares her photo shoot experience from wardrobe pulls to a decedent choice of accessories.
Her glamorous experience continues as she goes into hair and makeup. Who couldn't resist a photo while Gwyneth hair is getting did!
Her photo shoot in an Yves Saint Laurent jump suit is next. This made the cover of Harper's Bazaar.
I loved this amazingly constructed bare full legged Anthony Vaccarello dress.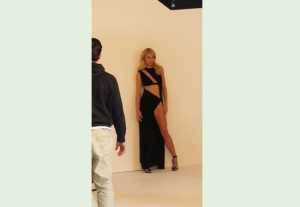 Finally she shares a photo of herself in what I call "perfect lace patisserie" by Alexander McQueen.
Paltrow shares everything from the music they were listening to (N.W.A. and Public Enemy) to what she was reading at the shoot (Ali in Wonderland by Ali Wentworth), and even some hot Urban Outfitters alternatives to recreate her look.
Marketing Machine & Branding Partnership
Aside from her blog Gwyneth Paltrow tweets during the Grammy's and is photographed with Rianna while wearing this amazing Stella McCartny cleverly cut dress.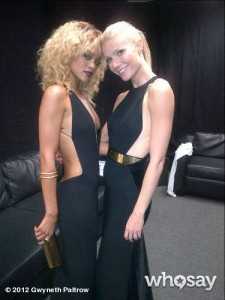 I love celebrities that just get it and it really is just about sharing your day in the life while highlighting the glamorous events like the Grammy's. The reason why this is so socially popular is that Gwyneth Paltrow is like texting a close friend on her experience with you. There is a social intimacy when someone shares photos or up to the minute updates.
Building relationships socially is an art. Brand partnership is such a great way to cross promote each other and elevate your presence in social media circles. A great example is this tweet by Harper's Bazaar.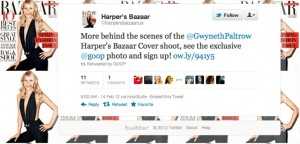 The natural re-tweet by Gwyneth Paltrow is a natural way to thank someone for a mention and share with her Twitter followers. I really love Gwyneth Paltrow blog. The fashion information alone is wonderful but her blog doesn't stop there. It is a well versed blog. Have a look at www.Goop.com and sign up for her newsletter.
In Other Fashion News

There is one more fashion blogger I adore. New York stylist Alexandra Greenawalt's blog Alexandra Stylist is a must read. I could get lost on her blog for hours and often have. An essential read if you're a novice or full-blown fashionista. You even get 9 tips to instant style when you sign up for her free newsletter.
My Fashion Advice:
Here's a social media tip for budding fashion bloggers, designers or stylist. Follow the top performers in your field. Look at what type of content they put out. Emulate don't copy. We are all over seeing websites being exactly the same. If you truly are a leader in your field you will find your own voice and style. You are a creative mind already! Your artistic story needs to be told.