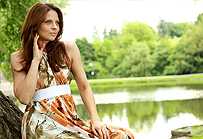 Personalize This Summer's Trends
BY: Stacy Baker
Pay homage to the hottest styles this summer by putting your own spin on the looks. Our team of top fashion experts share their secrets for making the steamiest trends of the season — longer hemlines, statement shoes, crochet and the Little White Dress (LWD) — all your own.
1. Get the look: floor-grazing hemlines.
Flowing or tailored, long-lined dresses and skirts are universally flattering. Opt for comfortable, easy-to-wear fabrics on steamy summer days; structured pieces work well for the office.
2. Grab your heels.
Infuse some sophistication to laid-back lines with a pair of pumps. Choose big, bold heels to make a serious statement, suggests Kristen Skordilis, stylist and owner of Koros Art and Style, a Chicago boutique.
3. Try simple style.
Wearing a jersey dress is as comfortable as donning your favorite T-shirt. Flat, leather sandals a la the Olsen sisters are a simple — and A-list — addition to the relaxed look.
4. Showcase your shape.
The longer hemline is a romantic reference to another time period, when waists were cinched and dresses were demure, says New York City-based stylist Alexandra of AlexandraStylist.com. Accentuate an hourglass figure by layering two dresses. The bottom one should have movement and flow, and the top should be formfitting. Avoid color blocking, which can make you look stout.
5. Get the Look: LWD.
Trade out your go-to Little Black Dress (LBD) for a white number instead. The fresh, crisp alternative to the standard cocktail attire is appropriate all season long, from beach to boardroom.
6. Be adventurous.
This season, the little white dress isn't so sweet and innocent, says Clare Coghlan, a New York City-based style editor. And anything goes. Try short hemlines, and experiment with body-conscious silhouettes and asymmetrical shoulders.
7. Add some bling.
White is the color of a blank canvas, so it's the perfect backdrop to this season's statement necklaces. Heavy bib pieces look great day or night. Layering pieces, another summer trend, adds a breezy, bohemian feel.
8. Start small.
There's something about a clean, white piece of clothing that imparts instant polish. If you're not ready for the head-to-toe treatment, start working pieces into your wardrobe. Start off with the basics — cropped skinny jeans; pants with long, lean legs; a sharp blazer; and a crisp shirt.
9. Get the look: statement shoes.
The Carrie Bradshaw in everyone is getting her fix this season. From mesh booties and overdone gladiators to military details and zippers a-go-go, summer's shoes are garnering lots of attention. Feeling guilty about the price tag? Don't. Pair your favorites with socks or opaque tights come fall.
10. Stay neutral.
Since cutouts and lots of straps are taking center stage, keep the color subdued. Plus, nudes and golds are easier to wear since they elongate legs and are universally flattering. Pair with draped dresses with shorter hemlines.
11. Toughen up.
"I love the tough-girl vibe of zippers on gladiator-style heels and flats: It's an edgy way to add some cool attitude to girlie summer dresses," says Coghlan.
12. Glam it up.
Statement clogs and ultrahigh wedges enhance any outfit. Shorts, jumpers and jeans all get a little more glam with help from some hefty height, says Skordilis.
13. Get the look: crochet.
Although first sighted on the uber-stylish a few seasons ago, this trend is still developing. The airy-yet-textured construction gives off a summer-of-love vibe that can be universally flattering.
14. Stay current.
This trend can be a tricky one to pull off. One faulty piece, and it can be back to grandma's closet. Stick with modern cuts and solid colors. And unless you are headlining at a music festival, keep accessories to a minimum.
15. Try accent pieces.
For just a touch of this trend, opt for basics that incorporate knit accents. Look for layering pieces, such as cardigans and oversized tanks with crochet cutouts, and you'll have a chic addition. Dresses with accented borders work well for laid-back functions.
16. Accessorize.
Never underestimate the power of accessorizing — just a hint texture can put you on point. "Choose a stitched, wide necklace, crochet drop earrings or even shoes with homespun details," says Coghlan. Avoid anything that's too long, too loud or too kitschy.