Alexandra Suzanne Greenawalt knew almost from the start that she was meant to be an entrepreneur. After graduating with a BA in French from Boston University, she worked in Paris as an intern for a small fashion PR firm. Back in the States, she worked in PR and fashion for several years. Yet early in her career she knew that her intense work ethic was a hot commodity and became dissatisfied with her office jobs. Alexandra says, "My experience in a cubicle made me run from working for a company. At one company, I had built their online community only to have them [the company] tear it down. After that, it just didn't feel right to work for other people."
Career And Style Re-Invention
She came to New York City and started her personal styling business 12 years ago, and has never looked back (check out her unique offerings at http://www.alexandrastylist.com). She specializes in working with successful professional women by offering a variety of styling packages, including her signature Style Re-Invention, an 8-session program that 'kicks style into high gear.' Alexandra's style makeover process is comprehensive, from bra fitting to closet editing to image consulting to shopping to putting it all together. It's an all-encompassing program for women who want to develop their personal style or who may be going through a change in her life–whether weight loss, a new job, divorce, moving to NYC–and wants to rebuild her wardrobe.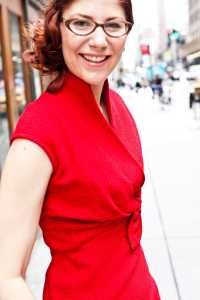 The rewards of owning her own business are tremendous and Alexandra admits, "I've never thought of quitting [her business] once I started on the path of fashion styling because it's my true calling. What drew me away from commercial work and editorial styling is that I felt replaceable. With my private clients, I feel appreciated and cherished. I get to help change a woman's life for the better."
The Long Road To Success
But the entrepreneurial path isn't easy, and Alexandra found that out the hard way. While she admits that she got lucky when she first started out on her own, and landed a national ad campaign for Pantene, she soon learned that these big jobs are few and far between and that it's often "feast or famine." She made tons of phone calls to contacts, editors and people in the fashion industry to get started which lead to a few more gigs. But it was only after she built her website that she saw her business shift and new clients and referrals come her way.
Slowly but surely, Alexandra developed her styling business and established herself in this competitive industry, but when the recession hit, her business took a huge hit. She had plenty of sleepless nights and worried about the uncertainty. She says, "I questioned whether I was doing the right thing [by sticking with her business] but every time I took a job self-help test, it lead me back to styling." So instead of folding, she stuck to her guns and updated her website. As a result, she's attracted new clients who were drawn to her unique website and her clear, specific offerings. Now, she gets most of her business via Google organic searches as a result of her great SEO and strategic blogging.
Along the way, Alexandra wrote and self-published, "Secrets of a Fashion Stylist," a book she said she had wanted to read since she became interested in fashion (available on her website). The book chronicles some of her past mistakes and experiences as a fashion stylist, helping wanna-be stylists to establish themselves and avoid some of the pitfalls of the industry.
Smart, Stylish & Budget-Minded
While the entrepreneurial lifestyle has its advantages, like the freedom of taking an 11 am yoga class, the downside is that income can be inconsistent. Alexandra has had a lot of experience in managing her budget. From an early age, she's had to be money-minded; her mother gave her the responsiblity of balancing a checkbook and a budget since she was in middle school. When she started her business, she used her savings from past jobs so that she wouldn't have to couch-surf. She keeps her business and personal accounts separate, and always negotiates for lower prices and deals with vendors. When she was building her website, she decided to launch it in stages instead of all at once so that she could pay it off incrementally. She keeps a lean over-head for her business, uses virtual assistants like Elance for special projects and design, and keeps a home office to save money.
When it comes to budgeting for fashion, Alexandra offers simple but wise advice: Don't buy things you don't need and don't buy things until you need them. Use credit cards wisely–like if a card offers cash back on purchases or low interest rates for the first 6 months. And most important, it's OK to splurge but make sure you have money in the bank to pay for that splurge.