DOWNLOAD MY NEWEST BOOK: LOVE WHAT YOU WEAR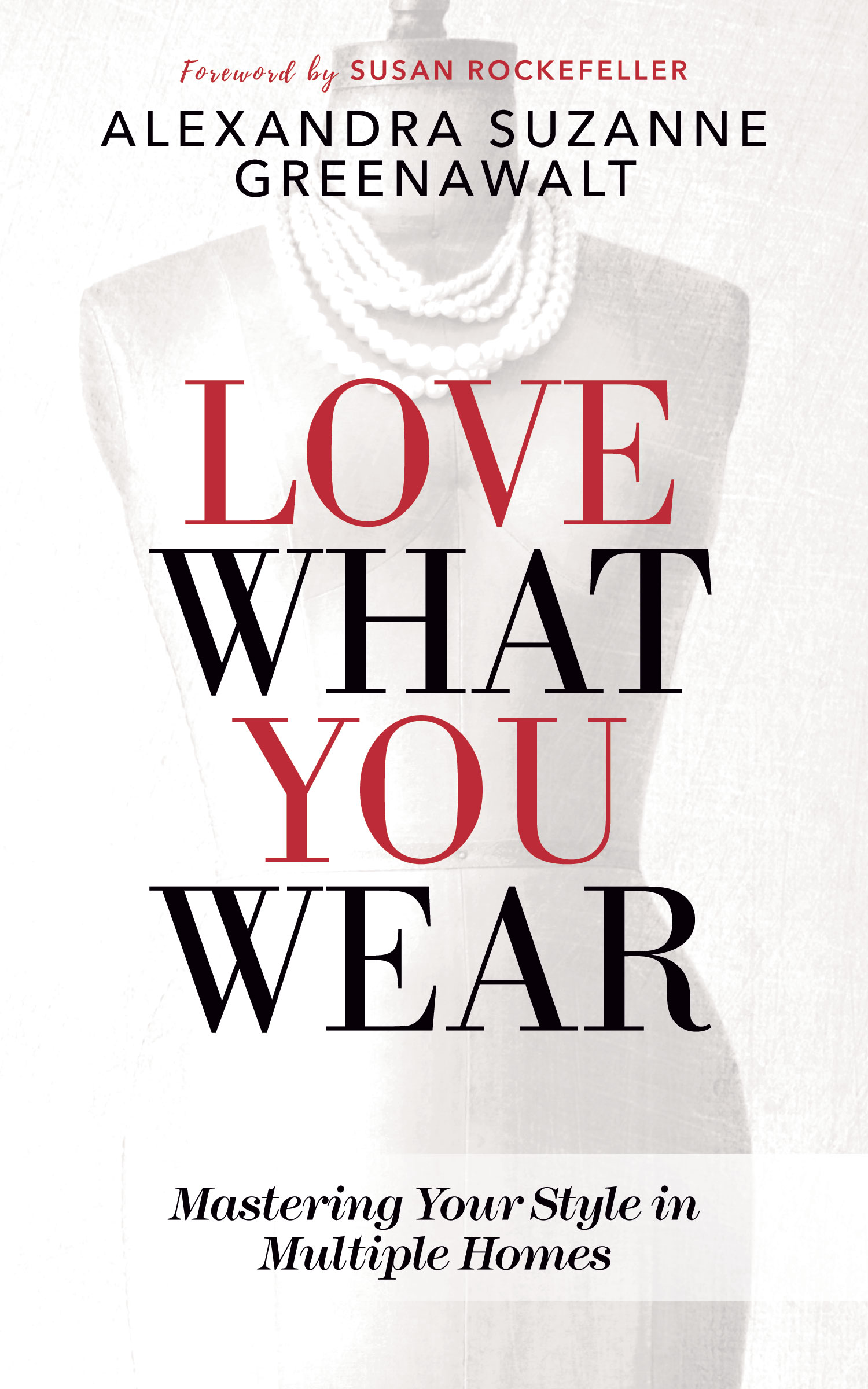 LEARN HOW TO:
• Are you sick of spending thousands of dollars on designer clothing you never wear?
• Fabulous in ALL of your homes!
• Get dressed from ANYWHERE in the world and look and feel great + appropriately dressed to tackle your day.
• Transform your style and closets now!
• Get your complimentary copy of this book now and end closet insanity!
"In her previous publications, Alexandra Greenawalt has always had an extraordinarily intuitive and almost visceral comprehension of style — an understanding that seems almost to live at the cellular level. No wonder her style advice is couched in almost physiological terms. In her new book, she writes of 'detoxing' your wardrobe, and avoiding 'shopping hangovers.' She isn't just a stylist — she's a style physician!"
–Mark Gauthier
"Mindfulness meets the closet. As a mindful educator I train teachers to bring contemplative practices into the classroom. And I rarely think about my closet as a place to apply the practice. Alexandra's awesome book does just that – she shows us how to clean the closet, to buy only the best pieces, to look our best no matter where we are or how many homes we live in. Amazing wisdom!"
–Mara Linaberger
"I have to say that this book is NOT about only those of us who have two or even three houses and consequent closets to manage…………..I have down sized and live in a guest house on our big property. Even with my shrinking closets of what I have always known, half of that space is full of clothes that are waiting for me to become 60 again………I am now in my 70'S.
Give it up! I love this book!"
–Linda Mornell
"Love What You Wear is a delightful journey into clarifying your wardrobe presence and inviting you to have a fond relationship with your clothing. Each home should not be a dumping ground for randomly selected items but rather should be looked as an act of pleasure in wearing what you love. Beautifully done and it reads like sinking into a tub with your innermost closet dreams."
–Francesca Alexander
"This is a must own book for the woman who lives in multiple locations. Living in San Francisco and NYC requires a varied wardrobe – but who wants to lug around their entire wardrobe? The organizational tips in Love What You Wear are invaluable when it comes to looking your best in every situation. You don't need a Wall Street suit in Silicon Valley or a hoodie for NYC."
—Lilli Balfour
"Love What You Wear is a charming yet comprehensive guide through a women's ongoing issue of what to wear, not just in multiple homes, even for those with one closet. Because of her lifelong 'luxury-nomadic' lifestyle, Ms. Greenwalt offers incredibly insightful yet simple solutions on why we have a closet packed with clothes we don't wear, how to overcome buying the wrong things, and finally dress with style and confidence, becoming of our body and skin tone. Whether you're in multiple locations or the one city you call home, her advice helps lift the stress of what to wear and makes dressing up fun again. Thank you Alexandra! "
–Cristen Chambers of Portland, Oregon, Oysterville, Washington, and Miami, Florida
Alexandra is the "master of style". While we all like to believe we can style ourselves or we have style, "Love What You Wear" teaches you how to take it the next level. It's as if Alexandra is right there next to you helping you along the way. Not only is this a great book everyone needs to feel confident and empowered by what they wear & how they manage their closets but it's beautifully written. She's intermixes her wonderful skill of storytelling as she gently guides you through the lessons of achieving your true style.
— Sandra Gault, CEO/Founder – True Gault.
"As a one-domicile woman who occasionally travels, I found Alexandra's book full of information to help me assess my wardrobe, weed it and make changes that will help me dress better and feel better about how I look at home or away."
–Vicky Cohen
Alexandra Suzanne Greenawalt is a Manhattan based personal stylist, author, and speaker. Since 2001 she has been a catalyst for women's style transformations.
Her fashion and photo shoot styling work has been published in Japanese Vogue, The New York Times, InStyle Magazine, Marie Claire Magazine, Surface Magazine, and many more.
Alexandra has been a guest style expert at several media outlets including Wake up with Al on the Weather Channel, CNN Money, Yahoo Finance, Real Simple, Fab Fit Fun, Shoptopia, and Sheknows.
Alexandra has worked with celebrities such as Jennifer Hudson, Duran Duran, and Antonia Bennett.
Since 2001 she has been a catalyst for women's style transformations. Her signature 1:1 program the Style Re-invention is a top to bottom complete style makeover that creates confidence.