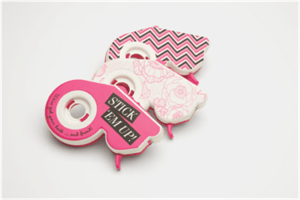 MINNEAPOLIS, Nov. 15, 2012 – The hypo-allergenic, double-sided tape that has helped models avoid catwalk catastrophes for the past decade introduces the next evolution in fashion solutions: the Hollywood Fashion Secrets Tape Gun. The easy-to-use Tape Gun helps women avoid everything from everyday gaping blouses, bra strap slips and falling hems to special occasion plunging dangerously low necklines (hello, holiday parties).
And speaking of the holidays, the Hollywood Fashion Secrets Tape Gun is just the sticky tool for making an on-trend craft, like creating a studded clutch for a budding fashionista or jazzing up a plain ornament with glittered stripes. Hollywood Fashion Secrets' double-sided fashion tape securely holds materials like feathers, studs, glitter and ribbons in place on all types of items. Small and compact, it is also an ideal stocking stuffer for every woman.
Not just for models and celebrities, this new Hollywood Fashion Secret is an innovation that on-the-go women can add to their everyday beauty arsenal. Designed to easily dispense Hollywood Fashion Tape in custom lengths (no waste), the fully-loaded Tape Gun features only one protective liner to remove, for more a convenient application. And, it's refillable so the ammo is endless.
"Hollywood Fashion Tape has dispersed over 150 million strips over the past decade and now we're bringing an even more novel solution to women," says Jane Dailey, president and co-founder of Hollywood Fashion Secrets. "While our tape and other fashion solutions have become must-haves for stylists, fashion editors and those working behind-the-scenes, we want women to realize that our products are styling staples – something we should all carry in our purse, keep in our desk, and store in our closet!"
"The new Tape Gun is much-needed for a few reasons." Says New York based stylist and author of "Secrets of a Fashion Stylist," Alexandra Greenwalt. "It makes custom-size strips, so its uses go beyond simple dress malfunctions. Most fashion tape comes in premade strips, meaning you're forced into one format. Let's say you have no time to get your pants hemmed. Instead of using small pre-cut pieces, you can now use the gun and reel off as much tape as you need.. Voilà! It's also refillable, making it more environmentally friendly. Oh, and the packaging is so cute! BRAVO, Hollywood Fashion Secrets!"
The Tape Gun, now available at select stores and at www.Hollywoodfashionsecrets.com, is re-fillable with rolls of Hollywood Fashion Tape. Retailing at $10.99 per filled dispenser, the Tape Gun comes filled with one tape roll and is available in a variety of limited designs: Pretty Petals, Classic Chevron and Stick em' Up. Refills cost $8.99/two rolls and the patented design works exclusively with Hollywood Fashion Secrets high-quality tape.