DONATE. GIVE. RECYCLE. CONSIGN
FINISHED CLEANING YOUR CLOSET?
GOING BEYOND SALVATION ARMY AND HOUSING WORKS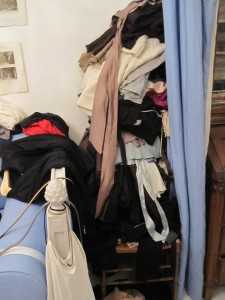 Last week I donated over 50 items at a pop up sale hosted by JCP which was wonderful experience and made me feel a lot lighter.
The downside was that I had to schelp all the items to Tribeca and inventory them myself.
I pulled a muscle which wasn't so fun. I was laughing through the whole experience because it took 30 minutes to get a taxi in the rain and then I proceeded to leave my empty suitcase in the taxi's trunk.
I guess no good deed goes unpunished.
Next time I'll call the Vietnam Veterans as they pick up!
A couple months ago I did another closet edit and wrote about it.
HERE ARE SOME CREATIVE IDEAS OF WHAT TO DO WITH THE STUFF ONCE YOU DECIDE TO SHED:
SWAP:
If you have friend who wears your size you can always offer gently used items to them first or organize a swap among friends.
But in NYC who has time anymore?
GIVE to a younger friend. I used to send my jewelry to my friend's daughter to play dress up with and she loved it. For me it just made me happy that I had brought her joy.
COSTUMES? DONATE TO A LOCAL OR SCHOOL THEATRE:
At boarding school we had such a limited budget for our costume closet so giving to youth for creative projects such as theatre can be rewarding knowing that your clothing could have a second life on the stage.
DONATE:
Bottomless closet
Much like Dress for Success Bottomless closet helps connect women with work. You can drop off donations at their location on in Penn Plaza on 34th street.
Career Gear accepts men's suits donated.
EASY BUTTON TO DONATING?
My lucky clients have donation bins in their apt building. Thanks to a joint venture with Housing Works NYC gov is getting smart. You can request your own donation box for your building in nyc with more than 10 units.
CALL 651-778-8387 to reach the Veterans will pick it up which is KEY in NYC.
In the winter I donate my coats to New York Cares they do the coat drives in major places like Bryant park and grand central station.
CLOTHING IS UNUSABLE?
Recycle your clothing with GROW NYC
DONATE TO ARTISTS WHO USE TEXTILES IN THEIR WORK:
MK Guth
Guerra de la Paz
SELL YOUR STUFF
Beacon's Closet gives you cash that day. It's never tons but it's out of your hair and there's something in your pocket.
Buffalo Exchange-similar to Beacon's in they give cash. http://www.buffaloexchange.com/index.php?pg=2
CONSIGN YOUR STUFF
Resale riches-in tribeca
Super High End Accessory Portero
A Second Chance Designer Resale
1109 Lexington Ave., nr. 77th St.; 212-744-6041
More ideas for clothing consignment in this article.
Here's another great article on what to do with anything