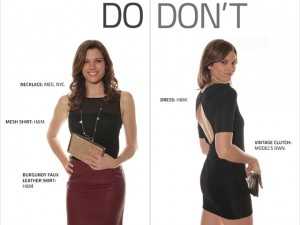 By Serena Solomon
CHICAGO — Valerie Ruiz cringed as she recalled the major fashion faux pas of an ex-coworker at a holiday work party three years ago.
The woman's furry white bikini top exposed a bare midriff, and her white miniskirt paired with white knee-high boots created a shockingly inappropriate outfit, explained the 33-year-old Ruiz
"She wanted to be a sexy Santa's helper," Ruiz said of the secretary's outfit that was topped off with a Santa hat.
With company holiday party season in full gear this month, the memory of one unfortunate outfit at a work party can have a ripple effect for years to come, experts warn.
Among the most offensive style decisions are baring too much flesh, going overboard with sparkles, wearing see-through material and otherwise violating the hard-earned fashion reputation workers hold onto during the rest of the year.
"This is high time for anxiety as people are already dealing with having to do their holiday shopping or cooking," said personal stylist Dawn Del Russo, who said she is bombarded with requests this time every year from clients who need help with selecting the most appropriate outfits to suit their flurry of holiday work functions.
"A lot of people tend to put their outfit last on the priority list."
While Del Russo is based in New York, she maintains the wardrobes and outfits of clients across the country via Skype video sessions.
Del Russo warns her clients to steer clear of the biggest no-nos: low-cut fronts, high hemlines and bare backs. She also urges them to go easy on glitter and sparkles, guiding them instead to classic looks.
"Everyone thinks it's the holidays so it fits, but as much as you feel like it's the time to wear your sparkly dress, it probably isn't," she said.
Del Russo noted the choice of outfits isn't a superficial decision. It can have a positive or negative influence on your career, sending a message to your boss or co-workers about your personality outside the office.
"They are affected by knowing they are going to a corporate party and the CEO will be there, and your style will matter," she said. "There is a lot of pressure."
Kelly Verdi, a 28-year-old who works in health and wellness public relations, said she tends to steer clear of glitter, as well as the current trend of metallic clothing, calling it over-the-top.
"I love both of those things, but it is too much at a work event," said Verdi, who added that a co-worker's tiny, tight and metallic skirt drew negative glances and office gossip at last year's work bash.
However, Allison Berlin, a personal stylist who runs Style Made Simple, said you don't have to dress like a nun — and that a little sparkle still can be acceptable.
"It makes sense in moderation — a belt and a piece of jewelry," she said. "You don't need to be wearing a sequined dress."
Berlin said the rule of thumb is classic, tasteful and appropriate. Costumelike outfits or other out-there numbers might not be a good experiment to debut in front of your colleagues.
Last year, she attended a corporate holiday party where someone wore a piece from their personal Japanese kimono collection.
"If you are someone that has a kimono collection or some other interesting fashion choice, the work party is not the place to debut that," she cautioned.
A more trendy selection, Berlin advised, is the peplum look (where ruffles are attached to the waist) or a leather pencil skirt — two current styles that would translate well for work party attire.
She also directed those in search of inspiration to her Pinterest page for possible outfits.
After 12 years as a personal fashion stylist, Alexandra Suzanne Greenawalt advises clients to spend some time doing research.
"Do your homework as to what co-workers are wearing, the dress code and the culture of the company," she said, noting that each workplace and industry has its own set of rules.
For Greenawalt, a well-put-together outfit "can act as a social armor" and it must "fit well enough so you can move, sit and dance."
"If there isn't stretch in the fabric, you won't be comfortable," said Greenawalt, who is a firm believer in jersey fabrics that offer some stretch.
She also presented the concept of a "specialty coat," which might have a shimmery fabric or ruffled details that could cover an outfit but be taken off upon entering the room.
Both Del Russo and Greenawalt suggested steering away from black and following this season's trend of dark jewel tones, such as deep emerald, ruby or sapphire.

On Del Russo's Pinterest page, where she outlines a few party-appropriate outfits, she has attached an image of a deep maroon leather skirt paired with a loose-fitted patterned blouse for a look that is conservative, stylish and even a little sexy.
In another look on the page, Del Russo details an outfit including wide black pants with a loosely fitted blouse in dusty pink, offset by cream shoes and a clutch.
Since comfort is key to confidence, Del Russo always starts building an outfit with something the client loves — and then moves them out of their comfort zone, if they want, with something to wow the workplace.
"They are growing their confidence because they are starting with something they like," Del Russo said.
Start with your favorite color, a special piece of jewelry, or inspiration from a style icon you admire, she said.
While being at ease is important, Del Russo warned against being lazy with wrinkly shirts, ill-fitting tailoring, and in the case of most work parties, denim.
"You still want that outfit to really pop," she said, "and say you are in the room."
Read more: http://www.dnainfo.com/chicago/20121203/chicago/what-not-wear-your-office-holiday-party#ixzz2EEH40PIc