UPPER WEST SIDE — With Mercedes-Benz Fashion Week just around the corner, even the city's most fashion-forward may be getting last-minute jitters about what to wear as they get ready to hit the tents at Lincoln Center.
Designers, stylists and bloggers shared some of the season's latest trends with DNAinfo.com New York — from studded, spiky cuffs to soft, flowing dresses — to make you feel fabulous without breaking the bank.
"This studded cuff is so in for fall," said Madeline Dawson, 19, a fashion stylist and writer behind the blog Fletcher, and a student at the Fashion Institute of Technology. "It adds a little bit of edge to every outfit."
Dawson recommended a mix of sparkle and punk in the forms of rhinestone collars, studded shoes and spiky necklaces, to add a fashionable contrast to flowing, soft dresses that she says represent spring and summer trends.
For Dawson, the edgy pieces — available at affordable shops like H&M, Zara and Forever 21 — can go with even the most glamorous dresses, stilettos or handbags.
"You might think, 'I don't want to go overkill on the studs,'" she said, "but studs are so in right now, it's hard to go overkill on them."
For stylist Alexandra Greenawalt, Fashion Week provides a rare opportunity to put your boldest food forward, especially for those trying to break into the industry.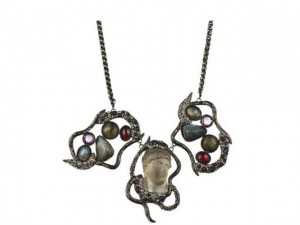 "It's definitely time to show your authentic style," said Greenawalt, creator of the blog The The Style Re-Invention Program and author of the book "Secrets of a Fashion Stylist. "
Greenawalt recommended wearable art, statement necklaces and big handmade or vintage hats, so long as they fit the frame and shape of the person wearing them.
"A lot of it is based on proportion," Greenawalt said, adding that "we're having more of a hat moment than a glove moment" and noting that she has recently seen a trend of wearing necklaces so long that they graze the floor.
Greenwalt suggested pieces from designers including Alexis Bittar, Beacon's Closet and jewelry company Gemma Redux.
"It's really important to be authentic and express yourself — and not be something that's on MTV," Greenawalt said. "People have a unique artistic expression from within."