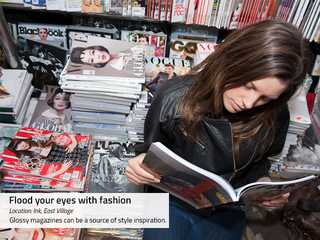 Originally posted on DNAinfo.
NEW YORK CITY — It took Laura Resetar weeks to build up the courage to wear her winter cape.
The black Calvin Klein garment with a bold, gold zip down the front would completely change her silhouette and would take Resetar into unchartered waters.
"You just have to go out there and wear it," said the finance worker who lives on the Upper East Side. "I got a lot of positive comments so that really helped me wear it again."
Pumping up your personal style and getting out of a fashion rut often means summoning the courage to wear something new and daring. With New York Fashion Week just days away, there is no better time to lift your style by following a few simple tips, such as clearing out your wardrobe, tapping into some fashion inspiration and experimenting while you are shopping.
"This is one of the top reasons why people choose to work with a stylist," said Allison Berlin, a personal stylist who runs Style Made Simple. "[Clients are] unhappy with their current look, having turned their wardrobe into a 'uniform' of sorts and they become bored but don't know how to change up the pattern, or where to begin."
Clients often get stuck on one look they think works for their style and body shape, and stick to it religiously, Berlin said.
"A lack of confidence is often the biggest barrier to stepping out of one's comfort zone," she said. "But if you just give something new its chance, you'll be surprised at the response."
DNAinfo.com New York has collected the following five tips to pump up your personal style ahead of New York Fashion Week.
1. Flood Your Eyes With Fashion
Filling your mind with fashion inspiration from magazines, style history books and websites such as style.com, as well as keeping track of it on a Pinterest account can elevate someone above their style rut, Berlin said.
"New York City is a 24-hour fashion show and I love to check out street style to get ideas," she said. "Once I see a new way to layer or mix colors and prints it gets me thinking of how to wear things differently than I normally do."
2. Clear Out Your Wardrobe
Pumping up your style starts with a well-organized wardrobe, said Alexandra Suzanne Greenwalt, a personal stylist of 12 years.
"I always say, 'If you can't see it, you won't wear it,'" she said.
"That includes being able to see your jewelry, scarves, shoes and bags. No hiding jewelry [items] in their boxes — they will never get worn."
Weeding out old, tired, stained and outdated items will reduce clutter and eliminate the temptation to wear that long-expired piece of clothing.
"Distractions and reminders of clothing which doesn't work only hinders your ability to move forward with your style," said Greenwalt, who also maintains a color-coordinated wardrobe to best organize her style armor.
3. Play Dress Ups
While an organized wardrobe can help with style, a messy and chaotic changing room at a neighborhood boutique, department store or vintage shop can also work.
"When there is a dress that I will never, ever think of buying, I try it on," said stylist Dawn Del Russo.
On a regular shopping trip either for herself or her personal shopping clients, Del Russo often reaches the clothing limit in an effort to experiment.
"Because I like fashion, I like to play," said Alexander Liang, editor-in-chief of Kenton magazine, who regularly blogs about his own daily style on alexanderliang.com.
"You have to plan a shopping day and just try on a bunch of different things," he said. "You don't know if a trend is going to work for you unless you try it on."
4. One Accessory Three Ways
To warm up to a new or interesting accessory, experiment at home by piecing together entire outfits around that hat, belt or necklace.
"Find something in your closet you love but never wear," said Greenwalt. "Find three new ways to wear it, or buy accompanying pieces that will make it work."
Numerous ready-to-wear outfits that complement the item will give you more mileage from that one accessory.
5. Color Coordinate Your Wardrobe
What to do with pants, skirts, dresses, prints or knits in your wardrobe? Arrange them in collections of colors — reds with reds or blue with blues, according to Greenwalt.
"Reorganize by color and type of garment," said Greenwalt. "You'd be surprised what a little re-organization can do."
This will give you clarity when it comes to pulling together any new look and it will make clothes more accessible.

If you would like to read more fabulous articles about style, visit DNAinfo.