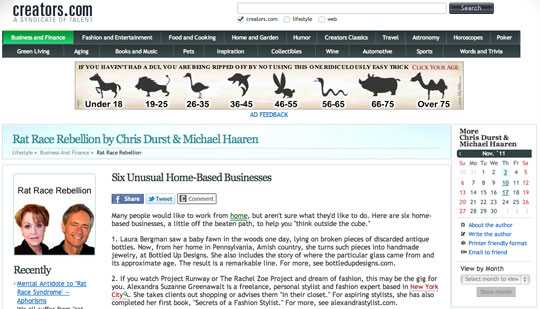 Have you ever thought about working from home? Creators.com features six home-based business ideas that are out of the box, including mine! Read the whole story below:
Many people would like to work from home, but aren't sure what they'd like to do. Here are six home-based businesses, a little off the beaten path, to help you "think outside the cube."
1. Laura Bergman saw a baby fawn in the woods one day, lying on broken pieces of discarded antique bottles. Now, from her home in Pennsylvania, Amish country, she turns such pieces into handmade jewelry, at Bottled Up Designs. She also includes the story of where the particular glass came from and its approximate age. The result is a remarkable line. For more, see bottledupdesigns.com.
2. If you watch Project Runway or The Rachel Zoe Project and dream of fashion, this may be the gig for you. Alexandra Suzanne Greenawalt is a freelance, personal stylist and fashion expert based in New York City. She takes clients out shopping or advises them "in their closet." For aspiring stylists, she has also completed her first book, "Secrets of a Fashion Stylist." For more, see alexandrastylist.com.
3. Lynn Maria Thompson is a Florida-based writer who decided to develop a second home-based business to fill in occasional gaps in the first. Since we ourselves write about rats, we were a bit reluctant to visit her website, but the name was too memorable to resist — Old Maid Cat Lady. It offers products for cats and people who love cats. For more, see oldmaidcatlady.com.
4. Virginia-based Jack Liu is launching Jack's Best, "an online membership site where I teach single guys how to cook a dish to impress a date. Members get video cooking instructions and dating tips from the female perspective." For more, see www.jacksbest.com.
5. Judy Katz is an experienced ghostwriter, based on New York City's Upper West Side. She has ghostwritten or edited over 22 books. "I know exactly what it will take to pull a story out of anyone," she says on her site, "the story he or she should really write, and not necessarily the one they think they should write." For more on Judy and her business, see ghostbooksters.com.
6. In Los Angeles, Calif., Steven Holtzman and his father have been running West Coast Aerial Photography, Inc., from a home office since 2001. They began the business part-time, Steven says, and expanded to full time in 2006. For more, including some spectacular examples of their photography, see their blog at photopilot.com/blog.
Of course, these are just a few of the hundreds of specialties that, thanks largely to the Net, are now home-based. For many more examples of home-based gigs, including open jobs, see our website, RatRaceRebellion.com.
Christine Durst and Michael Haaren are leaders in the work-at-home movement and advocates of de-rat-raced living. Their latest book is "Work at Home Now," a guide to finding home-based jobs. They offer additional guidance on finding home-based work at www.RatRaceRebellion.com. To read features by other Creators Syndicate writers and cartoonists, visit the Creators Syndicate Web page at www.creators.com.