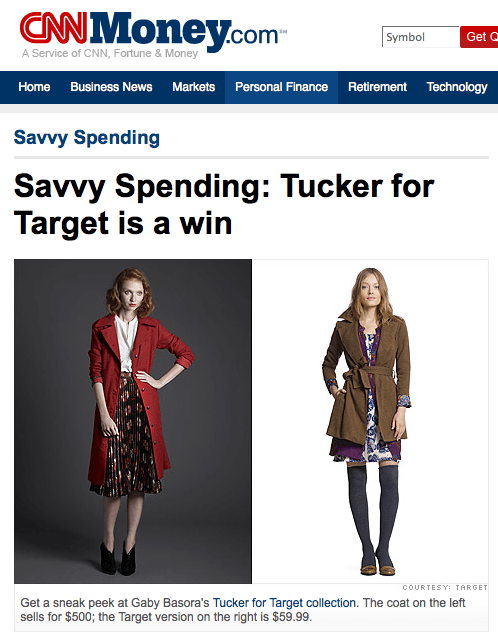 By Jessica Dickler, CNNMoney.com staff writer November 18, 2010: 3:00 PM ET
NEW YORK (CNNMoney.com) — Want to dress like Drew Barrymore or Cameron Diaz without a blockbuster budget? Bargain-hunting fashionistas are counting down to Sunday, when Gaby Basora's new Tucker for Target line goes on sale — the latest in the retailer's limited-edition designer collections.
But instead of paying $260 for one of Tucker's trademark silk jersey blouses, Target shoppers can snag a stretch georgette version for $24.99.
"Lower price point clothing is so popular now with stores like H&M, TopShop, and Target's designer collections. It's a great way to be able to buy something trendy for the season and not break the bank doing it," said fashion stylist Holly Copeland.
Thanks to Target's mass production capabilities, Basora was able to bring prices way, way down the designer says. But this is not her main collection at a discount, she cautions. "There are some shared silhouettes but the fabrics are different. And then there are also things designed just for Target."
Recession doesn't dampen the good life
Still, Basora believes the lower priced items will be a hit with both Tucker fans and Target shoppers. "There are great little pieces that are ripe for the mixing with my fall collection and the color palette is really complimentary."
In fact, Basora has already mixed some sought-after Target samples into her own closet. One of her favorites? "A quilted vest that's amazing." Target price: $24.99.
"The Tucker collection for Target had me at the grey jumpsuit. I just bought a silk jumpsuit in Europe and they are completely on trend," added Alexandra Greenawalt, a New York-based fashion stylist.
Those in the know snap up these steals early as the designer collections often sell out before you can say "expect more, pay less." Style-hungry shoppers have been all over Target's limited-edition designer collections since the inception of the GO International program in 2006. And previous collaborations with designers including Zac Posen, Rodarte and Thakoon have even reappeared at a premium on sites like eBay. Right now, there are formerly $20 dresses selling for $100 on the auction site.
The collection of women's apparel, including blouses, sweaters, shorts, dresses and a herringbone trench will be available through Oct. 17, but if the supply looks thin at your local store, don't fret Target says.
"If guests are unable to locate a specific item from the collection in a store near them, we recommend visiting Target.com where guests can search by item and use the "Find it at a Target Store" option to see where it might be available," recommends spokeswoman Katie Heinze.