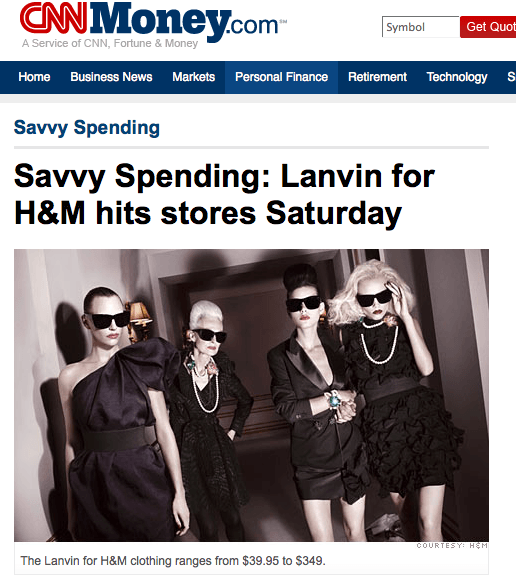 By Jessica Dickler, staff writerNovember 23, 2010: 12:08 PM ET
NEW YORK (CNNMoney.com) — Jennifer Lopez and Madonna both have already scooped up these clothes and soon the rest of the country can, too.
Normally the garments of Lanvin — the oldest operating French fashion house — are off limits to the average shopper considering that the designer's cocktail dresses usually sell for $1,000 to $5,000 or more at high-end department stores like Bergdorf Goodman and Neiman Marcus.
But on Saturday, the Lanvin for H&M collection officially launches, bringing designer dresses to the public at prices ranging from $39.95 to $349. The limited-edition clothes will be on sale on Nov. 20 in the 24 H&M stores in the U.S. and on Nov. 23 in 200 stores worldwide.
Already stars like Madonna, Natalie Portman and Jennifer Lopez have requested items, according to H&M, and fashion editors are swooning.
Designed by Lanvin artistic director Alber Elbaz, the collection of mostly party dresses for women and casual suits for men — think track pants and tuxedo jackets — keeps true to Lanvin's signature details like deconstructed hems and exposed zippers.
"It is very much a Lanvin collection, using their cut and tailoring, with lots of focus on form and details for both women and men," said Margareta van den Bosch, creative advisor at H&M.
The least expensive item is a red lipstick, similar to what was seen on Lanvin's runway last year, for $9.95. Other accessories, including sunglasses and costume jewelry cost between $19.95 and $49.95.
While a far cry from Lanvin's usual selling point, "the prices aren't exactly rock bottom," noted Alexandra Greenawalt, a New York-based fashion stylist. "The red dress which I love and would consider purchasing is still $249."
Greenawalt calls the animal print coat for $199 is "the best wardrobe staple in the collection."
But this is "not just a dress for less," Elbaz said in a statement. "I have said in the past that I would never do a mass-market collection, but what intrigued me was the idea of H&M going luxury rather than Lanvin going public," he said.
0:00 /1:09Ready for holiday shopping?
Of course, this is not H&M's first foray into high-end fashion. The retailer launches limited-edition designer collections around the same time every year, just in time for the holidays, and as in previous years, the clothes are only available while supplies last.
Items from previous collaborations with designers such as Karl Lagerfeld, Roberto Cavalli and Stella McCartney have resold for hundreds of dollars on sites like eBay. This time around, the company is actively trying to thwart shoppers from buying up the collection for the purpose of resale and restricting purchases to two items per style.
But that will hardly suppress demand. H&M says they expect consumers to camp out in front of the 5th Avenue flagship store in New York ahead of the 8 a.m. opening on Saturday.
In previous years, "people were sleeping in the streets," said spokeswoman Jennifer Ward.