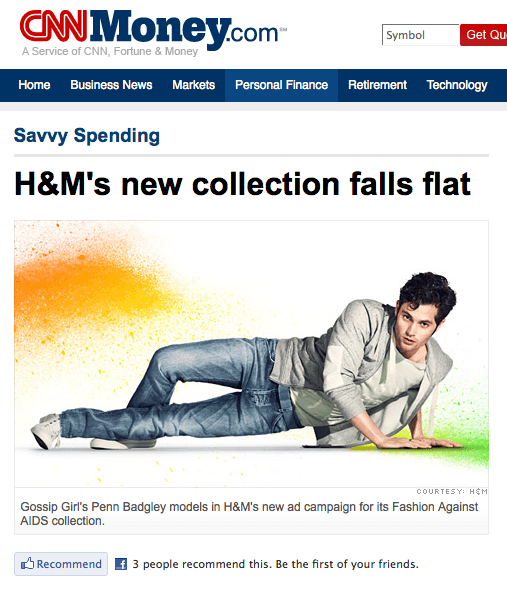 By Jessica Dickler, staff writer April 1, 2011: 2:40 PM ET
NEW YORK (CNNMoney) — H&M's latest Fashion Against AIDS collection, which debuts later this month, aims high for charity but falls flat on fashion.
The line of clothing and accessories, including T-shirts, shorts, parkas and jump suits, are all unisex in muted tones and simple silhouettes. Prices range from $3.99 for a box of condoms to $79.99 for a white leather vest.
"I don't love it, but I do I think the cause is great and any kind of awareness to AIDS is important," said fashion stylist Holly Copeland.
Unisex clothes are also inherently unflattering, Alexandra Greenawalt, another New York-based fashion stylist, added. "The whole collection has a shapeless feel to it which is embraced in retail but as a stylist I stay away from it."
The collection marks the retailer's fourth annual AIDS awareness effort and 25% of the proceeds from the sales will go to HIV/AIDS prevention and awareness programs. But AIDS is not exactly the charity du jour. Particularly in light of the recent earthquake and tsunami in Japan and the fashion fundraising efforts that followed, it is a disease that receives very little attention lately.
But that's partly why the company feels it's more important than ever to highlight the issue. "Young people are such a major risk and these are people that are coming into our stores every day," said H&M spokeswoman Jennifer Ward.
Sales will likely be helped by some star power. Many celebrities, such as Selma Blair, Ginnifer Goodwin and Gossip Girl's Penn Badgley got on board to promote the campaign.
"I think it is fitting that this collection is androgynous in style, as the disease affects both men and women equally," Selma Blair said in a statement. "It is a universal problem and we are all in this together. HIV/AIDS is a disease that can be avoided and it is especially tragic when our ignorance is what keeps us from safety."
As in previous years, H&M has partnered with Designers Against AIDS, or DAA, on the collection. With the help of other celebrity endorsements, the initiative has raised more than $5.9 million since its inception in 2007. Those funds were also donated to various projects aimed to increase awareness of HIV/AIDS.
The limited-edition collection will go on sale in 150 stores worldwide April 26. "We're expecting an amazing day when we launch it," Ward said.