To all budding stylists, potential assistants, and potential interns:
After receiving an overwhelming amount of emails regarding assisting me, I decided to create a special page just for you!
I appreciate your interest in my work so much.
Although I currently do not have any openings for assistants, I do keep a list of virtual assistants on hand for future projects. That's right I'm not looking for in person help, just VIRTUAL. Please sign up right here, and you will be notified immediately when something becomes available.
What do I look for in a virtual assistant?
(Not everyone possesses every single one!):
*Dedication + hard work + attention to detail
*Social Media skills
*Wordpress blogging experience
*Techy master (Blackberry syncing, basic Photoshop, etc.)
*Great communication skills, especially on the phone
*Grasp of branding and why it's important
*Good writing skills (no spelling or grammar mistakes)
*An eye for style
*Sees the light side of things
What am I NOT looking for:
*Those who want to point at beautiful things and smoke cigarettes with Madonna
*Someone who just wants to follow me around all day
*Those who takes themselves too seriously
I also suggest that you read my book. Sounds egotistical, but I actually wrote it just for you!
It's the kind of guide that I wanted to read when I was trying to get started. Now I get so many inquiries from people who want to break into the fashion industry that I have poured my heart and soul into my book to give you all of my insider knowledge that I've learned in the last 12 years.
My guidebook for stylists is exclusively available as a direct download here.
Good luck, and I look forward to connecting with you in the future,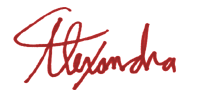 Alexandra
Sign up here if you want to work for me